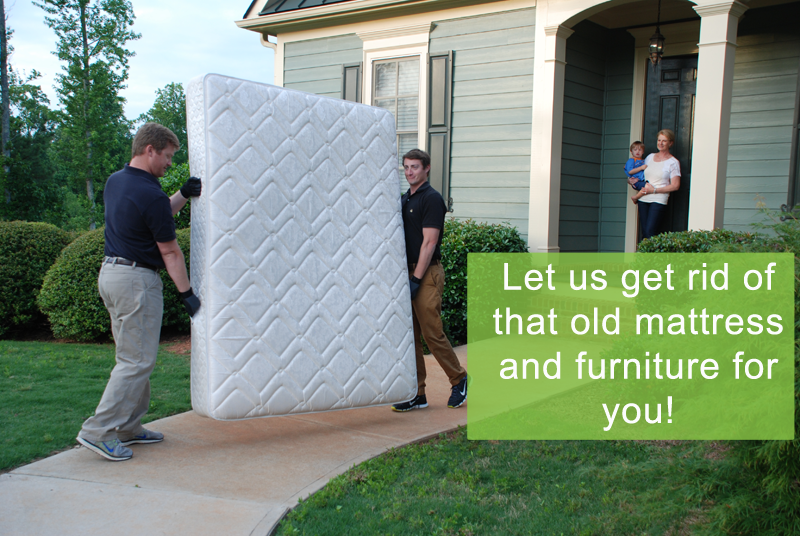 Ready to remove your old mattress?
You loved the feel of your memory foam mattress. It contoured your body perfectly, as well as your back.
Yet, after years of enjoying the ultimate in comfort, your foam mattress is ready for replacement.
Whether you're removing the entire mattress or want to cut the foam for proper disposal, knowing where to turn for mattress disposal help is the first step. Hiring a professional ensures the job is done right.
Can you cut up a memory foam mattress?
The short answer is yes, you can cut memory foam to size. What you need is the right cutting tool, a marking pen, and a tape measure, among other possible types of tools. Learning how to cut a foam mattress to size also requires you to determine whether the mattress contains other types of materials, such as gel and fiberglass. The presence of either material can make the cutting job much more difficult.
Why cut up my foam mattress?
You may have several reasons why you might want to cut memory foam to size. First, you might want to fit the mattress on a smaller bed. Second, you might want to fit the mattress in an area in a van or on a boat. Third, you can transform a large mattress into two single mattresses. Finally, cutting a foam mattress allows you to reuse the materials for other items like pillows, padding, or seat cushions.
Replacing an old mattress? Need help?
Let's say you're having trouble breaking down your mattress. On top of that, you're replacing an old mattress and need help getting it removed. Don't stress! Mattress Disposal Plus has you covered! Our professionals can handle cutting up the memory foam for you and haul off your old mattress.
What knife should I use for cutting a foam mattress?
Because a foam mattress is soft and pliable, you do not need to use a heavy-duty power saw to cut through the material. You can use a knife, but not just any type of knife.
Using an electric knife for mattress breakdown.
An electric knife is the easiest type of knife to use because all you have to do is keep the knife steady while electricity does all the power work!
If you do not own an electric knife, using a carving knife works about as well. Just makes sure to make short back and forth cutting motions, not long stretches of the arm to cut through the material. Even cutting memory foam mattress toppers requires the use of a highly sharpened knife.
Cutting up a mattress for disposal without using a sharp knife, preferably an electric knife, could run the risk of you accidentally cutting yourself.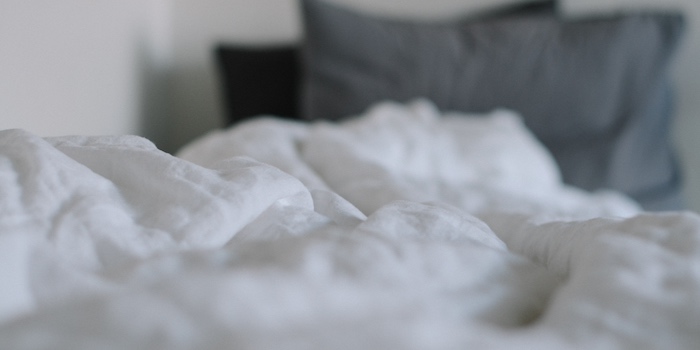 What other tools do I need to cut a mattress for recycling?
Planning to reinvent how you use a memory foam mattress? You'll need to find and organize several other types of tools to ensure you cut the mattress with the most precision!
Measuring tape allows you to define how much of the mattress you want to cut. Using a sharpie to create cutting lines enhances the accuracy of your cuts. Learning how to cut down a foam mattress without a sharpie and measuring tape can lead to wildly inaccurate cuts.
You also might need a seam ripper to remove the mattress cover, a sewing kit to produce new dimensions for the mattress cover, and a large piece of plywood to stabilize the mattress while you cut. If some of your cuts leave jagged edges, using a sharp paring knife can remove the excess material.
Steps for cutting memory foam mattress to fit.
Following these simple steps in order can help you safely understand the best way to cut memory foam!
Step-by-step instructions
Prepare.
Remove the mattress cover by using a seam ripper. Place the mattress on a stable surface such as a piece of plywood or drywall placed on the floor.
Gather information.
Measure and then mark the dimensions that you want.
Get to cutting!
Cut the marked dimensions without compressing the foam
Trim off the excess material if the edges became ragged.
Clean up.
Cover the mattress with new fabric or discard smaller pieces into a pile for mattress removal and disposal.
Can I throw away my cut-up foam mattress?
Americans get rid of nearly 20 million mattresses each year! The number of disposed mattresses has increased over the past several years due to demand for new bedding.
The current supply of mattresses in the country can cover nearly 132,000 square miles of land. With more and more mattresses finding their way to landfills, can you throw away your cut-up foam mattress?
The answer is yes, but it's complicated. It depends on the environmental laws of the state and city where you live. State and local governments have created stringent regulations that not only describe what kind of materials that you can throw away, but also how much of the materials qualify for the nearest government bulk item drop-off center.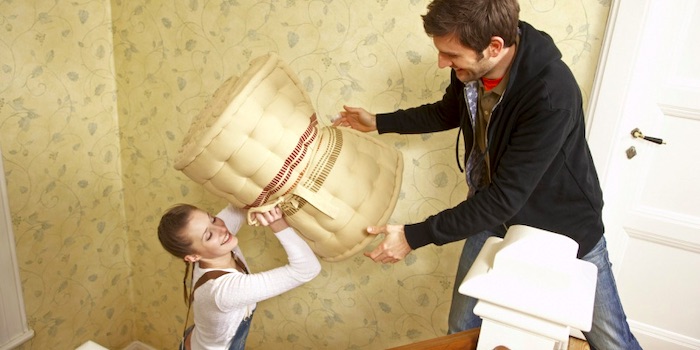 Is there a way I can responsibly dispose of my foam mattress?
Whether you're cutting up a mattress to refurbish it or to remove it, its a good practice to find an eco-friendly way to get the job done!
A growing number of states have made recycling mattresses a no-brainer because of the passage of strict junk disposal laws. You also have the option to donate a mattress to a local non-profit organization such as Goodwill or Salvation Army. Knowing how to cut up a foam mattress for disposal includes disposing of the smaller pieces at a local recycling center.
Would rather not deal with it on your own? Let us help!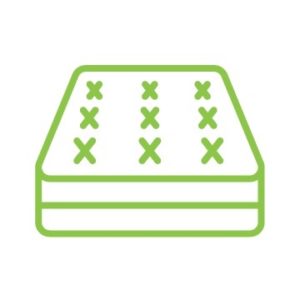 We have all your mattress needs covered!
At Mattress Disposal Plus, we make it easy. Simply book an online appointment with Mattress Disposal Plus for mattress removal and disposal and you'll have the option to choose the "Disassembly" feature at checkout. For a mattress, disassembly can include cutting a foam mattress into more manageable smaller pieces for hassle-free removal.
Eco-friendly disposal.
We work closely with local non-profit organizations by donating the old bulk items that we remove for our customers. Keeping your memory foam mattress out of a landfill keeps your city green ♻️.
Convenient booking options!
Mattress Disposal Plus offers a convenient booking options with guaranteed upfront prices. There's no need to worry about an unexpected price change on-site from an estimate. Simply go online to book an appointment for mattress removal and disposal service. Our on-demand booking system is reliable and accurate. We'll be able to confirm a furniture removal appointment as early as the next day!
Affordable prices.
Because we operate with honesty and transparency, you can expect upfront pricing that ranges between 20 and 30 percent lower than what our competitors charge for the same services.
While Mattress Disposal Plus has a simple option to schedule furniture assembly and receive a guaranteed up front price, it's helpful to know all of the options for furniture assembly before purchasing that dresser or bed frame.
Traditionally, some junk removal services additionally charge you for mattress disassembly once they are at your home through on-site estimates, however with Mattress Disposal Plus you can schedule your disassembly online for an upfront price.
Get more "me time" ⏰ with an easy mattress removal solution. Enter your zip code for a quote!
The job is done. Your old mattress is fully broken down and on its way for disposal. Yet there are piles of leftover bags and unneeded parts cluttering up your space.
As a ♻️ junk disposal service, Mattress Disposal Plus always strives for eco-friendly disposal of leftover items from your mattress, and junk removal services. While we can't promise to avoid the landfill, we always strive to safely recycle any items to keep your area clean.
The best mattress services — nationwide.
Whenever you need a mattress broken down or removed, save your energy and let background checked professionals do the handiwork. Whether it's carefully cutting the memory foam or hauling off your king mattress, you'll know you're in good hands. For prices often 20 – 30% less than other junk haulers, schedule an affordable mattress removal service with Mattress Disposal Plus today.
Related Articles from the Trash Talk Blog: