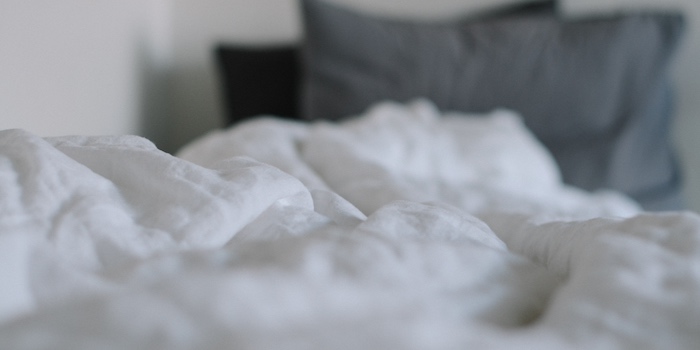 Learn how to get mattress recycling near you. It's easier than you think!
You're getting ready to replace your old mattress with a newer, fancier model. You know you need to get rid of the old mattress before the new mattress can be delivered, but you don't want it to end up in a landfill, either.
You would much rather donate your old mattress, but you can't find any charities that will take a used mattress donation. Your next thought is to recycle your old mattress, but. . . wait. Is that a thing? Can you recycle an old mattress?
Keep reading to learn the basics of mattress recycling and how you can get mattress pickup and recycling near you.
How Mattress Recycling Works
There's a lot of unwanted stuff out there that can be recycled or donated instead of thrown away, and many things, even mattresses, happen to be recyclable.
Old mattresses are usually recycled by removing essential components such as the metal springs or fiber filling and combining that material with other recycled mattress parts to create a brand new mattress.
"How does mattress recycling work?" you ask. Good question! First, your old mattress is hauled away and gets dropped off at a recycling center where it spends some time in a holding area with all the other discarded mattresses.
Then, all of the unwanted mattresses are inspected for signs of bed bugs or other infestations. Because they're considered a public health hazard, any mattresses with signs of infestation are hauled to another facility to be destroyed. This prevents the spread of bed bugs and other pest infestations.
The rest of the mattresses are sorted, with any wet or damp mattresses being placed in a separate room to dry.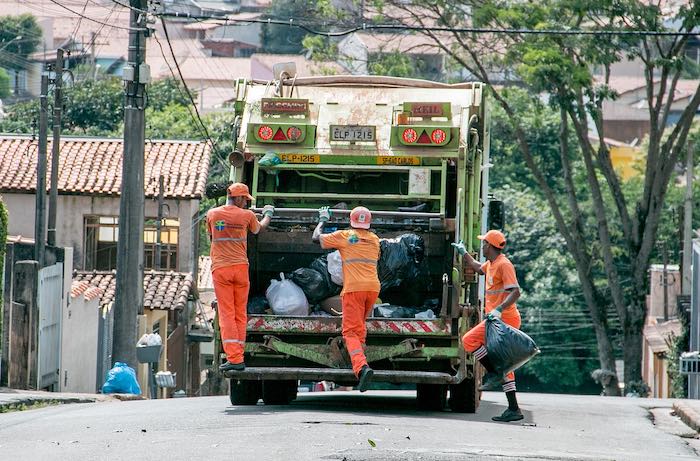 Once all of the mattresses have been sorted, any outer fabric or inner batting fiber is removed, which is then shipped out to be used in the creation of new products. Once everything has been removed, all of the mattress materials are sorted into different groups.
Many of the mattresses we see today are made either partially or entirely of foam. When foam mattresses are recycled, most of the foam is shipped to factories to be cleaned and turned into new products such as foam padding for carpeting.
The springs from innerspring mattresses and old box springs are made from thick steel wire, which is processed with special machinery to be stripped away and baled into large cubes.
These steel bales are then shipped to a scrap metal recycler to be melted down and made back into new steel. This recycled steel is used to produce countless new products.
How to Recycle a Mattress
The mattress disposal method that is going to have the most positive effect on the environment and the community is to recycle your old mattress.
When you recycle your old mattress instead of throwing it away or dumping it in a landfill, toxic substances are kept out of the air, water, soil, and food supply in your community.
You're also helping to create jobs and contribute to the local economy by supporting the recycling industry when you recycle your mattress.
You already know that steel and other metals from the innersprings of a mattress can be melted down and reused in the manufacture of many other products.
When you have your old mattress or box spring recycled, the wood, fibers, and other materials are also removed and used in the manufacture of new furniture and other products.
Unfortunately, most local recycling services won't pick up an old mattress for recycling. If you want to have your old mattress recycled, you'll likely have to take your mattress to a nearby recycling facility or local mattress recycling event.
Hauling your old mattress to be recycled can use up a lot of time and money, depending on how much you are charged in recycling fees, whether or not you have access to a truck, and how much time in your schedule you have available.
If you're looking for a quick and easy solution to having your mattress recycled, you'll likely do best by using an eco-friendly furniture and mattress removal company to do it for you.
Because they have access to more recycling resources than the average person, most mattress removal services are able to recycle much more material and scrap than you or I can.
Mattress Disposal Plus is a furniture and mattress removal company that can pick up your old mattress and haul it to a nearby recycling facility for you. The only thing you have to do is book a pickup online or over the phone, and Mattress Disposal Plus does the rest!
Does Mattress Disposal Plus Recycle Mattresses?
Many of our customers want to know whether Mattress Disposal Plus really recycles and donates the mattresses we haul away. Our answer to that question can seem a little complicated, so allow me explain. . .
Because Mattress Disposal Plus isn't a recycling facility or a charity, we don't recycle the mattresses and other junk we pick up ourselves. But we do take the things we pick up to be recycled or donated through the appropriate organizations.
At Mattress Disposal Plus, we're able to haul away and responsibly dispose of the items we pick up through our network of independently contracted haulers all across the United States.
So as you can imagine, it would be pretty difficult for us to recycle everything we pick up ourselves.
What happens is that the loaders take every item picked up that they possibly can to local charities and recycling facilities to donate them or have them recycled by the professional recyclers.
This way, you can rest easy knowing that your old mattress isn't going to have a negative impact on the environment.
Mattress Disposal Plus is able to charge less than most other furniture and mattress removal companies that recycle what they pick up. That's because at Mattress Disposal Plus, we base our prices on item count instead of volume.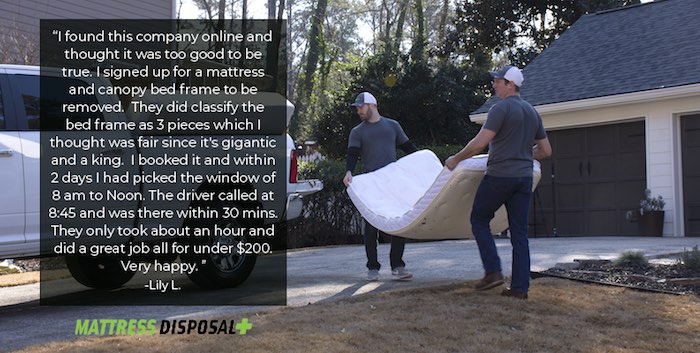 In fact, Mattress Disposal Plus is able to charge about 20-30% less than what most other mattress removal companies charge their customers.
When you book mattress removal service with Mattress Disposal Plus, you get an upfront, honest price and we haul away your mattress when it's most convenient for you.
Unlike most other mattress removal companies, Mattress Disposal Plus bases prices on item count instead of volume. So, if you have just a single item to get rid of, Mattress Disposal Plus will haul it away without charging extra.
While there are some mattresses and other furniture items we pick up that we're simply not able to recycle or donate due to regulations and other outside factors, we do everything we can to make sure your old mattress doesn't end up in a landfill.
At Mattress Disposal Plus, we believe in helping the environment and the community, so we're thrilled to help our customers live green when getting their old mattresses and furniture out of the way.
Want to know more? Learn how our mattress disposal process works or call our mattress disposal customer advocates at 877-708-8329 or chat with us online. Make mattress disposal easy by booking a pickup with us today!