Everything you need to know about mattress donation in this one easy guide.
There is no way around it. Getting rid of an old mattress can be a serious hassle. Unfortunately, the ways that you can get rid of a mattress are more limited than they are with many other consumer goods. Many people hope to donate so someone else can use their old mattress rather than contribute to yet more waste in the landfill.
However, it's not always as easy to donate your mattress as you might think. Let's take a closer look.
What kind of shape is your mattress in?
If your mattress is in good condition, then you may be able to successfully donate it. Donating a mattress is a great way to keep a mattress out of a landfill. Mattresses are big and bulky, and no one wants to spend time taking them to the dump and, even worse, adding to the ever-growing mountains of waste.
Is your mattress completely clean with no spills or stains? Are you in a pet-free household? Is your house completely free of smokers? If your answer to these three questions is yes, then it is more likely that your mattress will be of interest to a non-profit organization.
Who accepts used mattresses?
When it comes to those interested in receiving donated mattresses, homeless shelters, women's shelters, and churches are at the top of the list. Some religious charities will consider mattress donations as well. Since every organization has different donation policies, it may be necessary to contact a charity directly and ask them if they are interested in your mattress.
Keep in mind that even if you do find an organization that is interested in your mattress, you may need to deliver it to them. As stated above, your mattress could still be rejected if it is broken in some way, has smoke odors or other kinds of odors, or is stained. Other charities simply refuse used mattresses out of fear of bed bugs.
Through the website Donationtown.org, you can learn which charities in your area are willing to take your mattress. You will get a list of all the information you will need to know about the different charities and how to help those who have experienced a natural disaster. You can also learn more about how to assist homeless shelters. The time you invest in finding a charity to take your mattress might be rewarded because some charities offer free pickup.
Another option for donating or giving away your mattress is to post it for pickup on sites like Craigslist and Freecycle. In general, people aren't too eager to pay for a used mattress, but it is possible that some one may take it for free, especially if it was a high-quality mattress when you originally purchased it.
Your mattress may still be refused
They may pick up your mattress for a small fee, but like other charities, they may refuse to accept your mattress if it is not in good condition. Remember to call in advance any charity to which you are considering donating to learn more about their specific policies and requirements.
It is a bit of a role of the dice as to whether or not a charity will take your mattress. Mattresses are big and heavy and usually difficult to transport. Charities want to be very sure that they are getting something worth their time and effort before accepting a donation. As a result, many have simply decided to forego taking mattresses altogether. All of this combines to mean that you will likely have to do a good amount of research, emailing, and phone calling to find a charity that is not only interested in taking mattresses but also fits the parameters you need.
If your mattress is not rejected, there is definitely a chance that it will be able to gain a second life in the home of someone who will need and appreciate your donation.
What condition does my old mattress need to be in to donate it?
The newer the mattress and the higher the quality, the greater the chance that you'll find someone willing to give your old mattress a second life. Be sure to state in your ad if you have a no smokers or pets in your home, as that will make it far more likely someone will want it.
Also post some photos showing that it is clean and free from stains. Be sure to clean up the room and turn on all the lights before taking the photo. No one will want a mattress from a home that looks dark, dirty and rundown.
Likewise, unlike many other items, getting rid of your old mattress by leaving it outside with a "free" sign likely isn't going to work. Most people simply don't want to even touch a used mattress that they see lying on the street. Feel free to post online to see if anyone is interested in your used mattress, or ask family and friends. But the odds are that most people don't want to go through the trouble of transporting and lugging around a used mattress.
It is important to keep in mind that people often have their new mattresses delivered and placed in their bedrooms for them. This mindset is yet another reason why getting rid of your old mattress could prove to be a real challenge.
The problem with throwing away your mattress
You can't depend on your local trash service to take away an old mattress for you. And even if they did, it would just contribute to yet more problems at local landfills. Most mattresses use a surprising amount of metal wire. Since most are filled with flame retardant compounds, it could contribute to contamination of the planet. It is also important to keep in mind that the typical mattress takes up approximately 23 cubic feet in a landfill.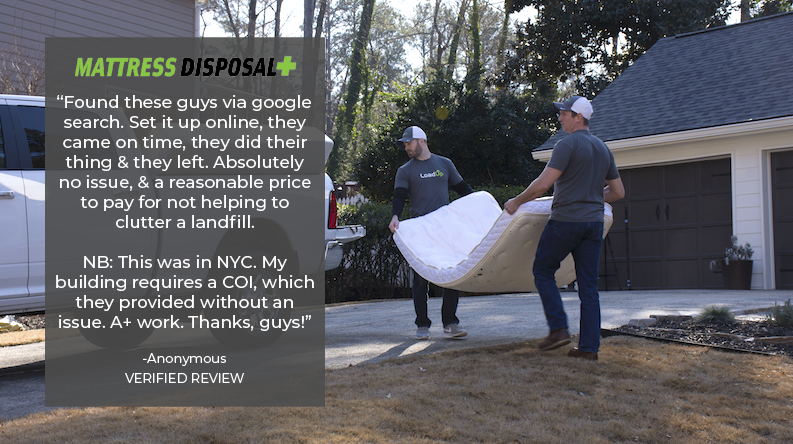 Simplifying the mattress removal process
In the end, donating an old mattress can be more laborious and complicated than one might otherwise think. That is the bad news, but the good news is that there is an easy way to get rid of your old mattress no matter what condition it may be in.
Does LoadUp take away old mattresses?
LoadUp will come to your house, pick up your mattress, and dispose of it properly and in a sustainable manner. You'll get upfront pricing as well. While getting rid of your mattress has the potential for surprises, LoadUp has taken the surprise out of the mattress pick up and disposal process.
LoadUp has made getting rid of your mattress about as easy and streamlined as is possible. You simply select a time to have your mattress picked up; LoadUp arrives and your mattress disappears. It really is that easy.
Instead of spending hours researching and calling different charities and posting ads or leaving your mattress outside and hoping someone will take it, you can pick up the phone or email LoadUp. We'll take the mattress away with zero hassle.