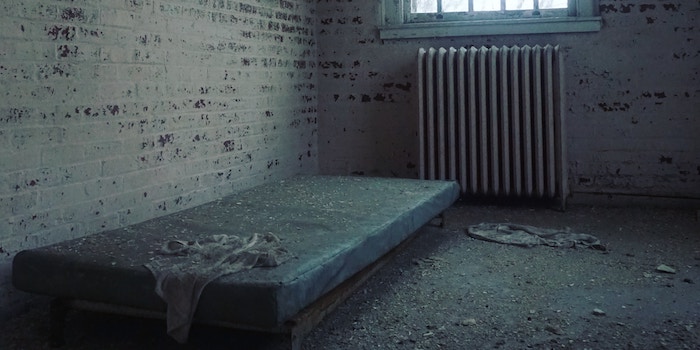 What's the most responsible way to dispose of a used mattress you no longer want or need?
Because they are one of the bulky waste items that are the most difficult to dispose of in an eco-friendly way, mattresses are often the culprits of illegal dumping, frequently being left on sidewalks, beside dumpsters, and in alleyways.
The problem here is that hauling a mattress to the landfill means paying extra fees for disposal because mattresses are heavy and bulky, so they don't compact well and end up creating air pockets that fill with flammable and toxic gases when they sit in a landfill.
Unfortunately, trying to be more green about mattress disposal by having a mattress recycled isn't much easier. Mattresses and box springs are usually made up mostly of wood, steel, fabric, fiber, and various types of foam. While it's possible to recycle over 90% of a mattress, the only mattress material that is easily recyclable is the foam.
Even though an old mattress is difficult to get rid of, that doesn't mean that letting it sit in a dumpsite to rot away is the best way to dispose of an old mattress.
How to Dispose of an Old Mattress
A mattress can be a very difficult thing to move even when you have someone helping you, just because it is so big and so very heavy. So many people buy their new mattress online these days that there is a parallel growth for the need for mattress disposal.
This can be a problem and makes it harder to get rid of the old mattress when buying a new one online because there's no one there to take the old one away when the new one is delivered.
So how can you make throwing away an old mattress as easy as it used to be? Without illegally dumping it, I mean. It's probably not as bad as you think.
For the rest of this post, I'll be sharing 7 different methods for getting an old mattress out of your house (and your life) in ways that are environmentally responsible.
Method 1: Give Away Your Mattress
The best part about this disposal method is being able to use it as an opportunity to visit and catch up with loved ones you haven't seen in a while.
Friends and family members are more likely to accept your used mattress because they know you well and trust you. Try texting or emailing loved ones with pictures and a description of the mattress you'd like to get rid of and ask if they would like to have it. If none of them need a new (to them) mattress, they may know of someone who does.
Method 2: Try Selling Your Mattress
If the mattress you need to get rid of is still in very good condition and doesn't have any odor or staining, you can try making a little extra cash off of it by selling it online. All you need to do is write a detailed description, take a few decent photos of it, and then list it on Facebook Marketplace or eBay.
If selling doesn't tickle your fancy, you could offer it up for free on websites like Craigslist or Freecycle. As long as your mattress is free of bed bugs and is still pretty new without any obvious signs of wear, giving it to someone who can put it to use is a great eco-friendly way to get rid of an old mattress.
Method 3: Break Down Your Mattress
Breaking down your mattress can be an easy disposal option if you have the time, space, and tools available to do it. To do this, just cut all around the outside fabric of the mattress and pull everything off of the springs and the wood frame.
This way, you can roll all of the soft stuff up and put it in the bin. Then, you can take the steel springs to be recycled or to a scrapyard to sell them. For the wood frame, you just need to cut it into manageable pieces with a saw and save them to burn in your fireplace or fire pit as kindling.
Method 4: Get Green Mattress Removal
No matter your reason for getting rid of a mattress, you're dealing with a heavy, bulky item that is very difficult to maneuver. So, you would definitely benefit from using a junk removal company to get rid of it for you. Junk removal companies are different from the guys who come in the big dump truck every week to pick up your garbage.
If you have large, bulky items or several boxes of small items you no longer need or want, you can book with a junk removal company, and these men and women will come into your home or office and carry your junk from wherever it is out to their truck and then haul it away and dispose of it responsibly.
Some junk removal companies will just take your junk and dispose of it at the landfill in order to save money. However, there are many eco-friendly junk removal companies out there that will take your junk to a recycling center or donate it to charity in order to keep it out of the landfill.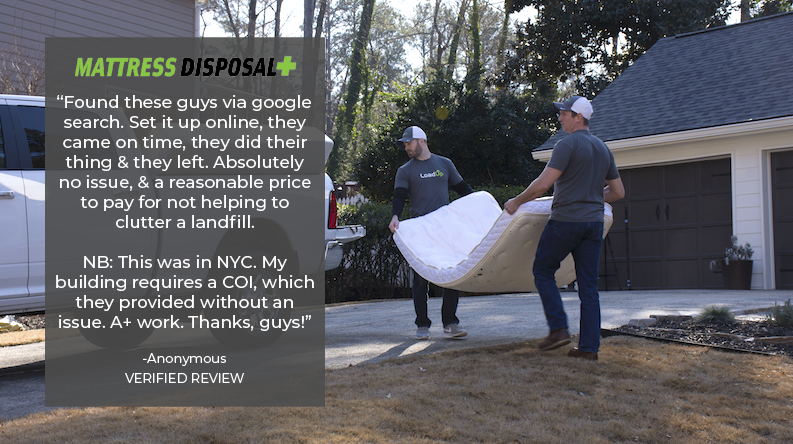 Method 5: Repurpose Your Old Mattress
If your mattress isn't in such great condition, you could salvage it by repurposing the materials with a little bit of creativity. There are many ways to reuse your old memory foam mattress instead of throwing it away or dealing with having it recycled. You could cut it up and use the foam to make pillows, stuff saggy couch cushions, or create a luxury pet bed for your furry, four-legged friends.
For a regular mattress that can't be slept on anymore, as long as there are no bed bugs, you can cut it up and use the materials for making diaper changing pads, quilts, pillows, etc. and then donate the finished products to a nearby shelter or other charity. Some people have even been known to use the fabric to cover plants in the colder months or to cut the mattress covering up into rags for cleaning.
Method 6: Donate the Mattress to Charity
Contact the charities in your area to see if any will be able to put the mattress to use. Because of health regulations, most charities like Goodwill and Salvation Army aren't able to accept donations of mattresses from the general public, even if they look brand new and are still in their original plastic.
However, many charities are able to use unwanted mattresses for other purposes. The best place to check would be with an animal shelter or animal sanctuary. These charities are often in need of mattress materials and other bedding which they are able to cut up and use to make cleaning rags and soft, cozy beds for the animals. Some charities will even come and pick up your used mattress donation.
Method 7: Recycle Your Mattress
Though most cities and municipalities don't offer curbside pickup service for mattress recycling, check with your city to see what other options they may offer for recycling a used mattress. Many cities and municipalities sponsor annual bulky waste recycling events in the neighborhood or can at least refer you to a nearby recycling facility.
You can go online and find information from the EPA on how to safely dispose of your old mattress. Online directories like Earth911 can help you find recycling facilities near you, as well. Recycling your mattress can involve more work than just tossing it in a dumpster, but it's an essential part of living an environmentally responsible life.
Best Way to Get Rid of an Old Mattress
If you would rather just skip the hassle and frustration of mattress disposal altogether, you should call a professional mattress removal service like Mattress Disposal Plus to haul away and responsibly dispose of your old mattress set for you.
Having Mattress Disposal Plus pick up and haul away your old mattress set not only saves you loads of time and energy, but because Mattress Disposal Plus is usually 30% less expensive than other mattress haulers, you save lots of money, too.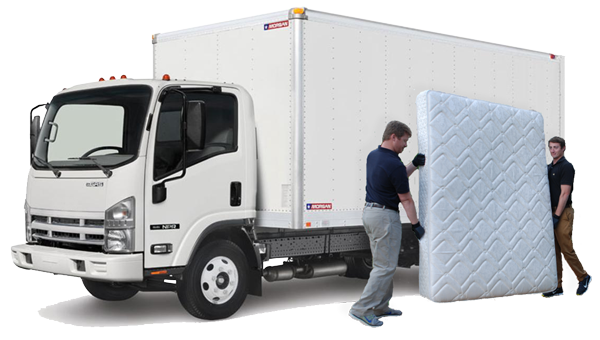 Mattress Disposal Plus is a nationwide mattress removal company offering fast, easy, and affordable mattress pickup and eco-friendly disposal as soon as the day after booking. Using green disposal methods like recycling and donation, Mattress Disposal Plus has already diverted over 2.5 Million mattresses from landfills across the U.S.
Because Mattress Disposal Plus provides you with an honest and reasonable price before you even book your pickup, you don't have to worry about experiencing sticker shock when they arrive to pick up your mattress.
Whenever you need to get rid of a mattress, box spring, bed frame, furniture, or any other junk, give Mattress Disposal Plus a call. They will work with you to schedule your pickup at a time that works best for you at your convenience.
Want to learn more about Mattress Disposal Plus and why we're the best mattress removal and disposal service in the U.S. or how you can book a pickup with us? visit us here or give us a call today!