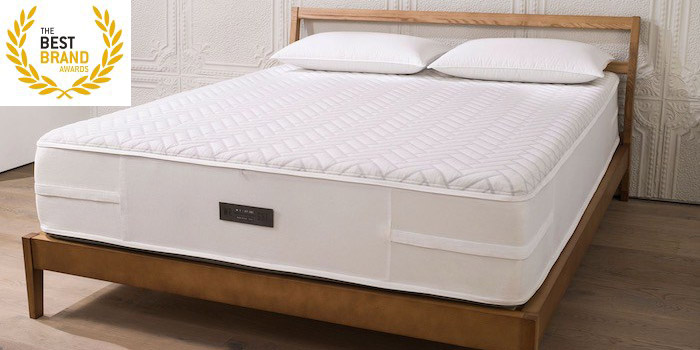 WRIGHT Bedding's W1.27 sets a new standard in the mattress industry.
The W1.27 mattress from WRIGHT Bedding has experienced great acclaim both from customers and the media. The mattress was developed out of stringent testing and sleep science, and it shows.
WRIGHT spent 2 years researching and developing their mattress in order to provide customers with the perfect balance of support, comfort, and coolness. The 4 layers of specialty foam make the W1.27 a mattress that noticeably improves sleep duration and quality.
Read on and see for yourself why the W1.27 mattress made it onto our list of the Best Mattress Brands of 2018.
A Mattress Engineered for Better Sleep
Here at Mattress Disposal Plus, we've picked up and disposed of thousands of mattresses for our customers all across the country. So, we know a thing or two about nearly every mattress and mattress brand on the market, just from listening to our customers.
WRIGHT Bedding is one of a select few mattress companies that we've barely heard any complaints about. The W1.27 mattress is also known for, among other things, being one of the most highly rated mattresses by customers.
The W1.27 was developed through 27 rounds of testing in order to optimize it for relieving physical stress at all major pressure points. The W1.27 was tested on an assortment of body types and sizes in order to make sure that the mattress would be able to provide the ultimate support and comfort for virtually anyone.
WRIGHT Bedding only offers their mattress in an all-foam construction, and it only comes in the one firmness level. However, in the case of the W1.27 mattress, one is really all you need. WRIGHT also offers bedding and frames on their website, but let's take a closer look at their mattress. . .
W1.27 Mattress Layers
The W1.27 mattress is crafted with a four-layer weightless foam system. This construction integrates a luxuriously soft top layer with progressively firmer base layers to provide the perfect blend of comfort and support. It is 11 inches thick, comes in a full array of bed sizes, and falls at a 6 out of 10 in terms of firmness.
The top layer of the W1.27 mattress is made of a proprietary, breathable cooling foam, with conductive gel particles embedded throughout. This 1.5-inch layer of WRIGHT Bedding's 3BELOW™ foam draws heat from your body and disperses it throughout the mattress, helping you sleep an average of 3 degrees cooler than with other foam mattresses.
The middle 2 layers of WRIGHT Bedding's mattress are made of 2 separate layers of a polymer-reinforced, viscoelastic memory foam. WRIGHT's proprietary ZeroG polymer-reinforced foam provides superior pressure relief with little bounce and zero motion transfer. This new foam has a higher response rate than typical memory foam so that you don't sink too far down and don't feel stuck in the mattress.
The W1.27 mattress base layer is 6 inches of a 1.8-pound density base foam. This provides the mattress with the strength and firmness needed for your body to be properly supported while you sleep, ensuring proper spinal alignment and back health.
All of the materials in the W1.27 mattress are CertiPUR-US verified. This certification means that the foam layers of the WRIGHT mattress meet very strict safety testing standards. The foam has been shown to be made without phthalates and other ozone-depleting substances. They are also certified to be made without formaldehyde, mercury, lead, or other heavy metals and to have low volatile organic compounds (VOC) emissions.
W1.27 Mattress Cover
The mattress cover of the W1.27 is made of a cotton-poly blend fabric and is quilted in order to promote airflow. The cover is ventilated at all corners in order to make the entire mattress more breathable and prevent it from trapping body heat.
WRIGHT Bedding's mattress cover is quilted for comfort and is zippered for easy removal. While you can easily toss the cover into the wash with your other linens, it is suggested to have it dry cleaned so that there is no damage to the zipper. If there is ever any damage or staining to the cover, it can easily be replaced with a new one.
The WRIGHT Bedding Trial & Warranty
WRIGHT Bedding provides a 120-day risk-free home trial on the W1.27. If you decide their mattress just isn't the one for you, you can return your mattress for a full refund and WRIGHT will cover any shipping both ways.
They'll also arrange for someone to come pick up your mattress at their expense so you don't have to worry about how you're going to get it back to them. WRIGHT Bedding does require that you keep the mattress for at least 30 days before returning it since most people need a couple of weeks to get used to a new mattress.
The W1.27 mattress comes with a 15 Year Warranty, guaranteeing it against any defects or deterioration for 15 years. Specifically, if the mattress breaks down in that time, WRIGHT Bedding will replace it with a new one.
The warranty includes any material change to the W1.27 that impacts its performance, including any sagging or indentation over half an inch. However, any stains or discoloration are not included in the guarantee.
WRIGHT Bedding Mattress Review Summary
Comfort Highlights
WRIGHT Bedding's proprietary 3BELOW™ foam helps regulate body temperature and ensures a cooling sleep environment 3 degrees lower than other foam mattresses
Center layers of ZeroG polymer-reinforced foam provide the perfect balance of pressure relief, comfort, and responsiveness
The W1.27 mattress uses CertiPUR-US® certified foams, making it eco-friendly and without any dangerous chemicals.
The WRIGHT Bedding W1.27 mattress has a firmness level of 6 out of 10, which is optimal for any body type or sleeping position preference
Value Highlights
120-day in-home trial with free returns and shipping makes it easy to try the WRIGHT Bedding Mattress and make sure it's the perfect one for you
The W1.27 mattress is crafted from top-quality materials and proprietary foams that are also CertiPUR-US certified
WRIGHT Bedding's mattress comes with a 15 Year Warranty against any defect or breakdown of materials
Where You Can Buy the W1.27 Mattress
We suggest buying the WRIGHT Bedding W1.27 mattress directly from their website. Follow this link to learn more about WRIGHT Bedding's W1.27 mattress and other bedding products and frames that WRIGHT offers.