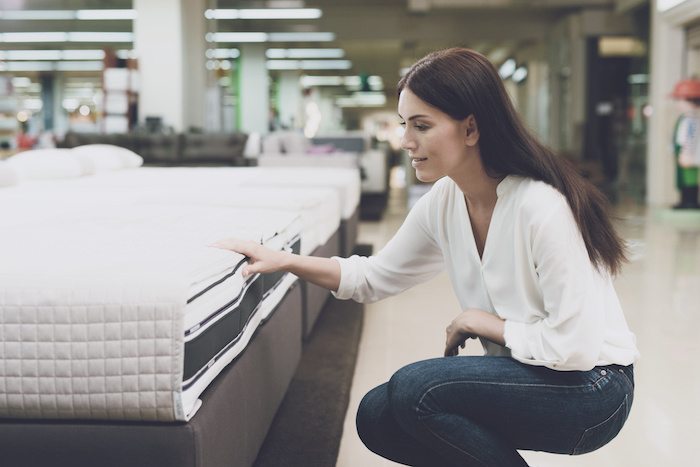 What mattress is right for me?
We spend about one-third of our lives sleeping. Unless you are an over-the-road truck driver, you spend more time sleeping than you spend on any other activity. Buying the right mattress can make the difference between getting a good night's sleep and tossing in bed until the alarm clock rings.
When buying a mattress, there are a few factors to consider before you begin shopping for the mattress not only of your dreams, but also a mattress that helps you fall asleep to sweet dreams. This guide will help you choose the right mattress, as well as show you options on how to get rid of the old mattress!
How can a new mattress help?
Let's say you're tired (literally) of waking up with a sore back and the lack of sleep is starting to affect your health. So, it's time to upgrade. How do you know what to buy? Consider this:
A better mattress is a better life.

Body type
Sleepers that have lower than average body weight for their sizes should consider a medium-firm mattress. If your weight is higher than average for your body size, a firmer mattress should provide you with plenty of support, whether you sleep on your back or your side.
Need to alleviate pain.
The wrong mattress can cause you considerable pain, but the good news is buying the right mattress can alleviate pain. If you experience back pain, you want to find a mattress that helps with back pain. The same principle applies if your hips and/or shoulders hurt. A medium-firm memory foam mattress could relieve back and joint pain, as well as reduce the amount of time it takes you to fall to sleep.
Buying for yourself or someone else?
Mattresses that get little use, such as the ones you find in a guest room, determine what type of mattress you should buy. If the mattress you want is for your use, then comfortable dependability is the most important factor for you when you make a purchasing decision.A firm mattress that provides plenty of support might be the right one to place in the master bedroom. If you are shopping for a mattress with your life partner, then size comes into play when making a buying decision. You have to account for size and how much each of you moves around during sleep.
What's the best material for my mattress?
Will a memory foam mattress help your back? Does an innerspring mattress provide enough support? Will you wake up in a sweat after a night sleeping on a latex mattress?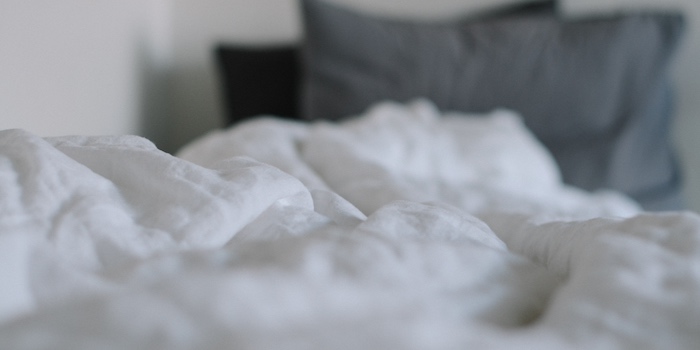 The pros and cons of a memory foam mattress.
Memory foam mattresses receive praise for the material's ability to contour to just about any type of body. If you want a soft mattress, memory foam can make it feel like you are sleeping on air. The mattress provides motion isolation, which is an important factor if you share a bed with your partner or even a pet.
Keep in mind that even if you do find an organization that is interested in your mattress, you may need to deliver it to them. As stated above, your mattress could still be rejected if it is broken in some way, has smoke odors or other kinds of odors, or is stained. Other charities simply refuse used mattresses out of fear of bed bugs.
Memory foam mattresses tend to vary in quality, which means testing different memory foam mattresses is a good idea before you settle on one. Although contouring is a positive attribute for most people, some sleepers might feel stuck in bed because of the lack of body movement.
What about an innerspring mattress?
An innerspring mattress might cost less than a high-quality memory foam mattress. This type of mattress offers strong back support, as well as produces more bounce than a memory foam mattress.
The bounce effect works well for sleepers that do not want to feel stuck in bed. However, a bouncy mattress means you might feel your partner moving around in bed. Because they are manufactured with springs, innerspring mattresses can be noisy if you move around during sleep.
What should I like about a latex mattress?
When you lie down on a latex mattress, you will first feel a soft, sinking sensation immediately followed by body support. Latex mattresses can alleviate joint pain because of the soft, cushioning effect of the material. The mattress aligns naturally to most spines to encourage back support. Because of the softness and support benefits, a latex mattress is often referred to as a healthy mattress.
The one significant drawback of a latex mattress is the material can make you sweat, especially if you move around during sleep.
How do I get rid of my old mattress?
Great! You've found the perfect mattress. But what about that old one that was giving you all those problems? Chances are you won't need it and it's time to get it out of the house.
Your best bet is to hire a highly-rated mattress removal and disposal company. But, you don't just need the mattress removed, you also need it to be disposed of safely. With non-profit organizations such as Salvation Army and Habitat for Humanity frequently in the market for mattresses, donating your mattress helps a good cause while opening up space for your new mattress.
Upgrading your sleep? We can help!
With so many options, upgrading a mattress can confusing or even in some cases, stressful. Why make it harder than it needs to be? Mattress Disposal Plus can help you not only simplify the process, but also keep your space clean.
Mattress Disposal Plus specializes in all types of mattress removal and disposal and we have expert loaders that haul away all types of mattresses. Not every mattress that we remove is recycled, but we strive to use the green options when it's available.
We offer on-demand mattress removal and disposal service in the community where you live. Simply go online to book an appointment and receive upfront pricing on our mattress removal and disposal service.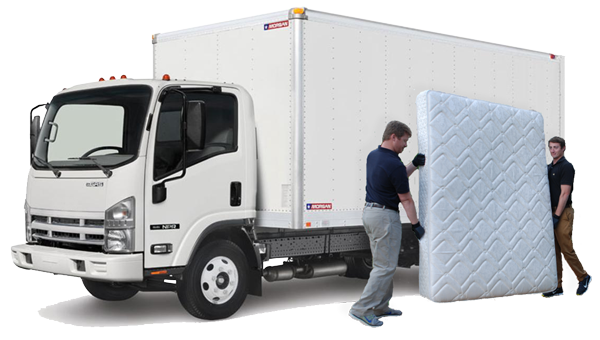 Because we work with independent contractors, we offer prices that are between 20 and 30 percent lower than what our competitors charge for the same services. We thoroughly scree our independent contractors, as well as ensure they earn the right professional licenses to remove and dispose of bulk items.
Act today to get the best and most affordable mattress removal and disposal service by booking an online appointment with Mattress Disposal Plus.