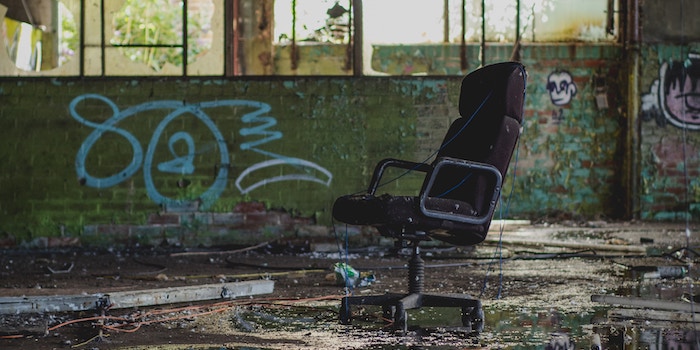 Don't just dump your old furniture anywhere when there are better ways to get rid of furniture in Atlanta.
It can get pretty frustrating when trying to properly dispose of old furniture in Atlanta when the time finally comes for you to part with some of your stuff. Whether you're moving, clearing out some space, or replacing it with something new, getting rid of old furniture isn't as simple as just putting it at the curb.
Unfortunately, so many people decide that the solution to their problem is by just dumping their old furniture in empty lots and streets all over Atlanta to get rid of old furniture.
There are plenty of ways to dispose of old furniture in Atlanta that don't have to include causing an eyesore and wreaking havoc on the environment. We've shared some information with you below to help you find the best furniture disposal solution for you.
Atlanta Furniture Disposal
In Atlanta, you can't just set your old furniture out with the rest of your garbage. In fact, dumping your old furniture on the curb can actually be pretty risky.
In many Atlanta neighborhoods and municipalities, if you leave old furniture or other bulky junk items (things such as a mattress, box spring, appliances, an old TV, used tires, etc.) on the curb or beside a dumpster, it won't get picked up that way, and you will almost certainly be cited and fined because of it.
If you're intending to have your unwanted furniture picked up by your regular trash collection service, you have to call ahead to request an appointment for a special pickup.
However, if you urgently need to have that old furniture hauled away, a special collection isn't going to help you much. When you request a special bulky trash pickup, it can take days to weeks before the garbage collector will be able to pick up your furniture.
You'll also be required to pay an additional fee for a special pickup, which can get pretty steep depending on the size, weight, and number of furniture items they'll be taking from your home or office.
Be sure to call and speak to someone with your trash service first, to find out in advance what types of furniture they will accept, any rules or regulations you need to be aware of, and how much they will charge you for the pickup.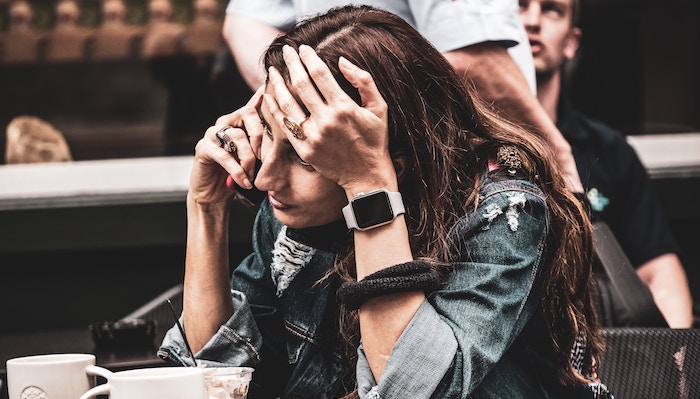 Of course, if you'd rather not deal with the hassle of scheduling a special collection, you can try taking your old furniture to the city dump. Again, it would be wise to call ahead and make sure they will accept your furniture before you haul it all the way there.
If you decide to take your used furniture to the landfill or transfer station, you should be prepared to show proof of residence and pay the disposal fees when dropping off your furniture.
You can expect to pay somewhere around $300 to dump a full pickup truckload of furniture since the fee is based on volume and weight. The exact number will also depend on what kind of furniture you're dropping off and how the attendant decides to measure the load.
When you factor in the price of renting a truck and the cost of the gas you'll use hauling your furniture and returning, disposing of furniture yourself can easily turn into an expensive project.
Plus, the whole process of renting the truck, getting everything to the truck, loading and unloading, then returning the truck will easily take up an entire day.
Don't forget that you'll need to enlist the help of a friend or family member for the lifting and hauling of all that heavy, awkward old furniture. Taking on this task without any help is just too dangerous; you could easily injure yourself from all that heavy lifting.
The amount of time, money, and energy it takes to throw away furniture in Atlanta is not insignificant, by any means. That's why many residents decide to call a professional furniture removal service and hire them to do all the hard work instead.
Donating Furniture in Atlanta
While you can't donate a used mattress to charity, there are plenty of charities in Atlanta that would be more than happy to accept the donation of your gently used furniture items to their organization.
National nonprofits with chapters or branches in Atlanta, such as Habitat for Humanity, Goodwill, the Salvation Army, and Saint Vincent de Paul are all great places to start your search for the perfect charity for donating your unwanted furniture.
Used furniture items like an old sleeper sofa or dining set need to be in very good, working condition if you plan to donate or give them away to anyone.
I'm going to guess that you probably wouldn't be too happy receiving broken, stained, scratched, or torn furniture, no matter how "down on your luck," if you were in that position. Keep that in mind when considering donating your old furniture to an Atlanta charity.
You'll also want to do your homework and find out which of your unwanted furniture items you'll be able to donate. The items a charity already has and the things they are in need of most can play a big part in what items they can accept.
Call around to a few charities in Atlanta and ask them if they are in need of the types of furniture you are trying to donate. Depending on their service area and volunteer schedule, some charities in Atlanta even offer pickup of furniture donations.
When calling charities to ask if they will take your old recliner or bed frame, remember to also ask if they will come out and pick up the furniture you're donating. If they do, make sure to also ask whether they charge a fee for pickup and how long it will be before they are able to pick up your furniture donation.
Many times, there are so many people requesting that the charity pick up the things they're donating that there can be a waiting list for pickup that's at least a couple of weeks long.
Furniture Removal in Atlanta
Whether you need to get rid of old furniture due to decluttering, relocating, redecorating, or renovating, you would likely greatly benefit from using a furniture removal company to have it all hauled away and disposed of for you instead of doing it yourself.
While there are several furniture removal companies in Atlanta to choose from, they all have one thing in common: they all pick up and dispose of furniture and other things things that people no longer need, want, or have room for.
Usually, when you call one of these furniture removal companies, they schedule a "free" on-site estimate then come out to see what items you need to have disposed of, give you a quote, schedule a pickup day, then come back to pick up and haul away your furniture for disposal.
Using a furniture removal service is a great solution to getting rid of your old mattress or dresser. However, there can be a few drawbacks involved.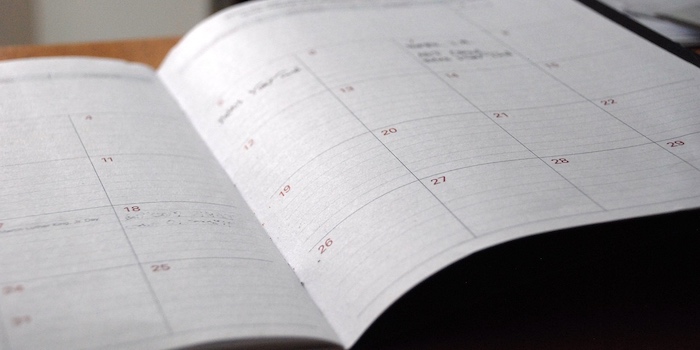 You will have to schedule them to come out and give you a quote when you are both available. Then, you have to schedule another day and time for them to come back and haul away your furniture. It can take a few days, sometimes weeks, before the furniture remover actually comes and picks up your old furniture.
You also have to be at home for both of these appointments, which means you'll probably have to take time off work, use up a weekend day, or cancel plans so you can accommodate them.
The person who provides the estimate will usually "low-ball" it so that you get a price that is low enough for you to want to book their service.
Then, when the pickup crew arrives to pick up your items and everything is loaded onto the truck, you are charged a higher price than you were quoted, which you're expected to pay on the spot.
Best Furniture Removal in Atlanta
When you book a pickup with Mattress Disposal Plus to dispose of your unwanted furniture, you are given a set price up front, with no hidden fees or surprise charges on the day of pickup.
You also don't have to wait around for someone to come out and give you a price estimate and then wait around again for the pickup to happen.
Mattress Disposal Plus provides pickup in Atlanta as soon as the same day of booking, making disposing of your old furniture quick and easy, as well as affordable.
Mattress Disposal Plus offers optional, discounted curbside pickup, so as long as your old furniture is outside and accessible at the scheduled time, it can be hauled away without anyone needing to be there.
If you'd prefer white glove service and to have your old couch or recliner picked up from where it is inside your home, they can do in-home removal of any of your unwanted furniture at no additional charge.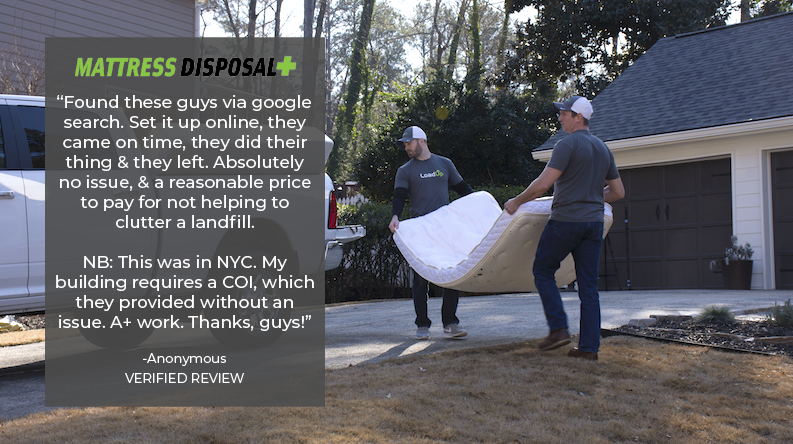 Unlike with other furniture removal companies in Atlanta (we won't name names, but you know who they are), when you have Mattress Disposal Plus dispose of your old furniture for you, you can rest easy knowing it won't be going straight to the dump.
Mattress Disposal Plus believes in green living, so once your old furniture is picked up, everything possible is done to make sure your unwanted furniture gets donated or recycled.
Mattress Disposal Plus makes sure that nothing gets dumped in a landfill if it doesn't have to be. You can see the proof from the over 3 million pounds of junk that Mattress Disposal Plus has already kept out of local landfills.
If you're looking for fast, easy furniture pickup and disposal in Atlanta at an honest and affordable price, then look no further than Mattress Disposal Plus!
Call us with any questions or to book a pickup today! You can also book online! How cool is that?