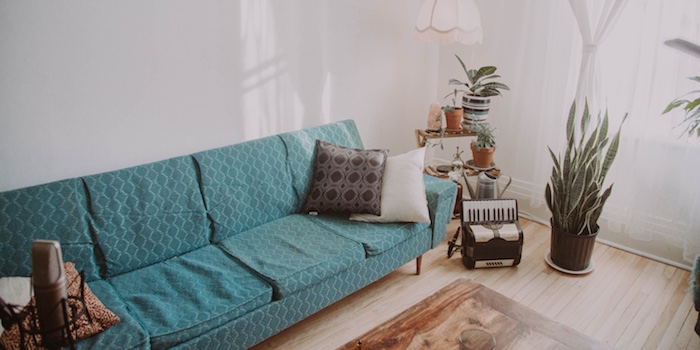 The answer to getting rid of old furniture is really a lot easier than you probably think.
When the time finally comes to get rid of your old sofa or bedroom suite, it can be pretty frustrating when trying to figure out what to do with it.
Unfortunately, many people decide that the answer to their furniture puzzle is to toss their old furniture out on the street. Not only is this bad for the environment, but it also creates an eyesore for the neighbors.
There are plenty of ways to get rid of an unwanted sectional or wardrobe that are actually a lot easier and better for the environment than dumping it in an abandoned lot or behind a dumpster.
Getting Rid of Furniture
While some cities' regular garbage disposal services include free pickup of bulky items like mattresses and furniture, there are thousands of towns across the US where getting rid of unwanted furniture isn't as simple as just dragging it down to the curb and leaving it there.
So what the heck do they expect you to do with it all? Instead of drowning in broken, outdated furniture stuffed away in your attic or garage, you can try one of these solutions to getting rid of your old recliner or sleeper sofa.
Throw away broken furniture with the trash.
Donate gently used furniture to a nearby charity.
Try selling your unwanted furniture online or in a garage sale.
Give your old furniture away to someone who wants it.
Try having certain metal, plastic, glass, or wood furniture recycled.
Now, let's take a closer look at these options for getting rid of your old furniture. . .
Throw Away Old Furniture
In most places where the local trash will pick up bulky items like furniture, you're required to pay an additional fee and to schedule a special pickup well in advance.
It could be weeks before your old sofa or dining set gets picked up if you go this route, and you probably just don't have that kind of time.
Of course, you could just haul your old furniture to the local dump, but aside from the obvious negative environmental impact, getting rid of furniture this way can be a lot of trouble.
Your old couch or entertainment center is probably a lot heavier and bulkier than your new stuff. This means you're going to need to find someone to help you haul your heavy, old furniture across town.
If you don't have access to a truck, then you may need to rent one. However, most rental companies won't let you use their vehicles for hauling.
Furniture Donation
Donating your unwanted bedroom suite or sofa can be a great way to get your old furniture out of your way while helping someone in need and reducing landfill waste.
Furniture items such as a used dresser or sectional should be in very good condition in order to be donated. You can usually donate items like furniture and household appliances to charities such as the Salvation Army or Habitat for Humanity.
Take a look at these extensive junk disposal guides for step-by-step instructions on determining whether or not your old furniture should be donated.
You ought to do a little research first to find out how much of your unwanted furniture you'll be able to donate. Different charities take different things, and the types of furniture they will accept can change frequently.
Call around to a few charities near you and ask if they are currently accepting the types of furniture you are looking to donate. Some charities even offer pickup of donated furniture items, depending on their service area and volunteer schedule.
When calling a charity to find out if they will take your old chest of drawers or futon, you should also ask if they can pick up the furniture you're donating. If so, remember to ask how much their fee is for pickup and if there is a waiting list for furniture donation pickup near you.
Sell Your Used Furniture
How is a used couch like a used car? Even if it's got a lot of miles on it, as long as it's still in good shape, you can try to sell it. We could all use a little extra dough, and you could even put any money you make on your old sofa or dining table toward buying a new one.
If you own your home and have a lot of other junk you've been meaning to get rid of, like an old treadmill that's been gathering dust or that rusty grill that's been sitting on the back deck for a couple of years, you can organize your own yard sale.
Another great place to try selling used furniture is the Internet. Websites and apps like Marketplace, Craigslist, OfferUp, and even eBay are a few examples of useful tools for selling your stuff online.
Basically, all you have to do is list the items you're selling with a detailed description, good photos, and an asking price. Once someone interested in buying your old chaise or patio set contacts you, all you have to do is schedule a time and place to meet up and complete the transaction.
Many times, people have a hard time selling their used furniture for a price that makes sense to them. If you find this is the case when trying to sell your used coffee table or bookcase, try lowering the price.
If you just don't have any luck finding someone to take your used furniture off your hands, your best bet may be to call a furniture removal company to come get it and do all of the work for you.
Giving Away Furniture
Try sending an email or text to friends and family to see if any of them are interested in taking an entertainment center or dresser off your hands. If none of them are in the market for a free, "new-to-me" couch, they probably know someone who is.
People are much more likely to take a used sofa or bed from someone they know and trust. Plus, you'll have a better chance of them offering to come and pick up your unwanted furniture themselves, as payment for the new recliner or console table.
If you can't find anyone you know who is willing to take your hand-me-down furniture, you can try listing it online for free. You wouldn't believe the things you can get rid of by listing on Craigslist or Freecycle.
If you list the price as "free," you can get rid of just about anything except maybe a dead skunk. However, when you list things for free, it's more likely you'll get folks who flake out on you and mysteriously disappear off the face of the earth.
Furniture Recycling
Believe it or not, some furniture can be recycled. Furniture that is made primarily of metal, such as some bed frames, futon frames, file cabinets, desks, shelving units, and outdoor furniture can be taken to your closest recycling facility or scrap metal dealer to be recycled.
Some other furniture, made with wood, foam, fiber, and plastic is recyclable as well. However, most municipal recycling programs don't offer pickup of special, bulky items such as furniture.
In order to have your old furniture recycled, you'll have to haul it to a recycling facility yourself and likely pay a fee once you drop off your furniture to be recycled.
Remember, to avoid wasting a trip to the recycler, call ahead to confirm they will be able to accept your unwanted couch or side table.
While many furniture items can be recycled, not all materials are recyclable and some facilities have fewer recycling capabilities than others, which can limit the types of furniture they are able to accept.
Best Way to Get Rid of Old Furniture
If you decide to have a furniture removal company pick up your old furniture instead of worrying with the hassle of renting a truck, wasting precious time and energy, and convincing your friends to help you, it's important to choose the right one.
While there are many options to choose from for professional furniture removal, Mattress Disposal Plus offers a lot that other hauling services don't.
As a full-service removal company that understands excellent customer service is the best sales tactic there is, Mattress Disposal Plus keeps your comfort and convenience a top priority.
Mattress Disposal Plus offers pickup times that fit your schedule, and your hauling crew will pick up your used sleeper sofa or dining set as-is, wherever it is in your home. If you can't be around when they arrive to haul away your unwanted furniture, Mattress Disposal Plus also offers curbside pickup service at a discounted price.
While every other furniture removal company in the industry forces you into a "free" onsite quote, stealing your time and making you have to haggle over the price, Mattress Disposal Plus provides you with an instant, honest set price that's 20-30% lower than what those other guys charge.
Mattress Disposal Plus is a trailblazer in the furniture removal industry, using proprietary technology to provide customers with real-time updates on the status of their pickup and location of their hauling team.
This means you don't have to wait around all day for them to show up, because you'll be alerted when they're on their way, giving you plenty of time to meet them there so you can go about the rest of your day without worry.
Let Mattress Disposal Plus help you make getting rid of your old furniture a quick and painless experience instead of a giant, bulky nightmare.