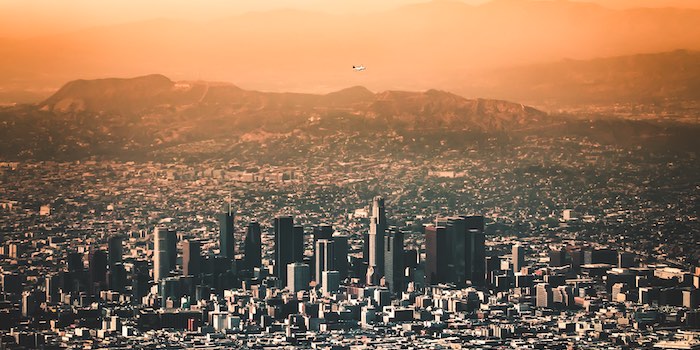 Looking for a way to get rid of your old mattress in LA?
Lots of people living in Los Angeles have a hard time figuring out what to do with their old, unwanted mattress. You can't just toss it out on the street and you know better than to abandon it behind a dumpster or an empty lot.
You've heard that you can donate your used mattress to charity but can't find anyone who will take it. You'd rather have your mattress recycled than picked up by the garbage collector only to end up in a landfill somewhere.
Before you pull out any more of your hair worrying about mattress disposal, read a little further and we'll tell you how you can easily get rid of your old, unwanted mattress in LA in an eco-friendly way.
Los Angeles Mattress Recycling
People living in Los Angeles are able to have bulky waste items picked up by their regular garbage collector by making a special request a day in advance. However, it's highly recommended to recycle your mattress instead.
The City of Los Angeles suggests recycling an old mattress by donating it to a local nonprofit organization or charity so that it can be reused by those in need.
If you've already tried donating your mattress, you've probably found it very hard to find any Los Angeles charities that will accept a used mattress.
It can be nearly impossible to find a charity that will accept mattress donations because there are certain public health concerns and regulations surrounding the donation of used bedding like a mattress.
When a used mattress is donated, the charity has to have the mattress thoroughly inspected and sanitized before they can pass it on to someone else, costing them valuable time and money.
Because this process tends to be so inefficient, most charities won't accept donations of a used mattress, opting instead to partner with mattress manufacturers and other companies for their bedding needs.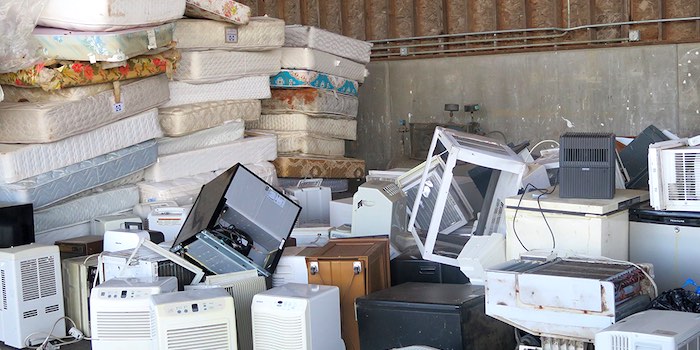 Alternatively, Los Angeles residents can haul their old mattress to a drop-off location that participates in the California mattress recycling program where the mattress will be broken down and its components used in the manufacture of new products and materials.
When recycled this way, your old mattress can be diverted from the waste stream and made into something useful such as new bedding, textiles, appliances, landscaping, and construction materials.
This mattress recycling program has done a lot of great things for Los Angeles residents and the environment. Unfortunately, it might not be so useful for people who don't have a truck or a car spacious enough to haul a mattress.
That's why so many LA residents decide to have their old mattress picked up and hauled to the recycling center for them by a Los Angeles mattress removal company.
Mattress Removal in Los Angeles
Using a mattress removal company to get rid of your mattress in Los Angeles just makes a lot of sense.
It's true that you can schedule a bulky waste pickup for your old mattress, but this is less than ideal since it takes a while for the City to get around to picking up your mattress. Plus, you have to deal with dragging the mattress down to the curb.
You have to make sure you get your mattress out at the right moment: too early and you can be prosecuted for illegal dumping, too late and you miss your pickup and have to go through the process all over again.
Not to mention, you can seriously injure yourself accidentally since a mattress is so heavy, bulky, and awkward. You also don't want to be responsible for sending your mattress to a landfill where it will do a lot of harm to the environment.
Sure, you can rent a truck and haul your old mattress to a recycling center, but it's really not worth it once you think about the cost of fines, fees, truck rental, gas, and equipment on top of all the time you'll spend doing this.
That's why it's better to have a Los Angeles mattress removal service do all the legwork and heavy lifting for you instead.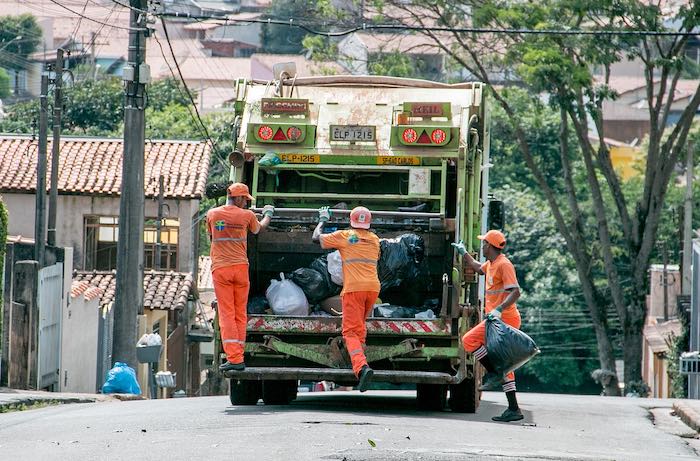 A Los Angeles mattress removal company has the experience, equipment, and resources to make getting rid of your unwanted mattress easy and painless.
When you book a pickup with a mattress removal company, they will send someone to haul away your mattress and dispose of it responsibly. Many mattress haulers in Los Angeles use eco-friendly disposal methods, taking your mattress to be recycled or donated.
Some will even pick up your unwanted mattress from wherever it is in your home, saving you the trouble of dragging it outside or downstairs.
While there are a few mattress and furniture removal companies to choose from in Los Angeles, if you want to get the most value, Mattress Disposal Plus should be your first choice.
Best Mattress Removal & Disposal in LA
Mattress Disposal Plus is a professional, nationwide mattress removal company offering excellent removal and disposal service of mattress sets, furniture, and more to Los Angeles residents and thousands of other customers across the US.
Using green disposal methods such as donation and recycling, Mattress Disposal Plus features prices that are an average of 20-30% less than what most other removal companies and services charge.
Because they charge a minimum fee for their services, other companies and services cost at least $100 for the smallest load and around $300 and up as a base charge for a truck bed's worth of items.
Those base charges don't include additional fees for distance, difficulty, special or large items, disposal, time, labor, or extra loads. Mattress Disposal Plus gives you an upfront, honest price that's all-inclusive with no hidden fees, unlike those other mattress removal companies.
While you'll almost certainly experience sticker shock with those other guys, Mattress Disposal Plus won't surprise you extra charges when your mattress has already been loaded onto the truck.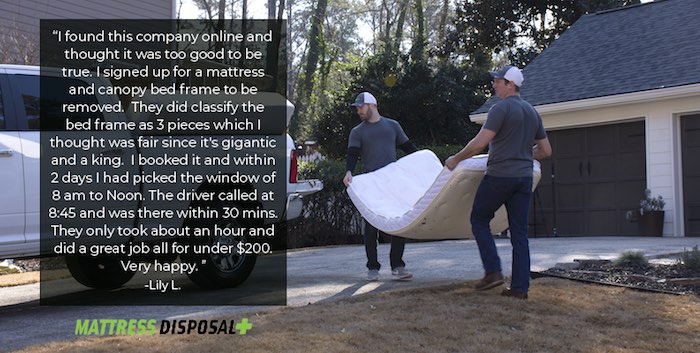 Possibly the best thing about having your mattress removed by Mattress Disposal Plus is their custom technology platform that lets you track your pickup every step of the way.
You'll get real-time notifications, GPS tracking links, and white label pre-calling so you know where your loader is and when they'll arrive instead of being stuck waiting around for them to show up.
You'll also feel safe knowing you're in the hands of certified, background and driver-checked professionals who are completely, 100% insured.
If you'd like to know more about Mattress Disposal Plus and our mattress removal services in Los Angeles CA or how to get mattress removal with us, give us a call or chat with us online today.