Finding someone to pick up your old mattress doesn't have to be a chore.
An old, unwanted mattress or boxspring can take up an awful lot of space in your home. Maybe you've been meaning to throw out your old mattress ever since you bought a brand new one, but you just can't seem to figure out what to do with it.
Hauling your old mattress to the dump, tossing it behind a dumpster, or dragging it down the driveway to leave it at the curb are probably your most tempting options right now.
However, you know how bad a used mattress is for the environment, and you would much rather dispose of your mattress responsibly than be weighed down by a guilty conscience.
You also don't exactly have the time or energy to drag your old mattress or box spring anywhere for disposal, so you know you need to find some sort of mattress removal service to pick up your unwanted mattress and dispose of it for you. But where?
Mattress Disposal Pickup
Many people think they can just put an old mattress out on the curb with the rest of their trash to be picked up by the garbage disposal service. However, most cities and towns in the U.S. don't offer pickup of bulky items like a mattress, or they require that you make an appointment far in advance. Most times, these items end up in the local landfill where they add to toxic chemical pollution.
Even if your regular garbage pickup service does offer mattress pickup with the trash, you may not be physically able or have the time to drag a mattress, box spring, or other bulky items to the curb. This situation makes a mattress removal pickup service a necessity.
Most local governments and HOAs also fine people for leaving an old mattress or box spring out on the curb. You could just leave your old mattress on the curb and hope that someone will grab it, but your chances of this happening are pretty low. Plus, you'd really rather not be the cause of an eyesore in the neighborhood and risk getting in trouble with your HOA or landlord, in addition to getting a fine.
That's why Mattress Disposal Plus offers mattress removal pickup to folks for whom these issues are a concern, taking the hassle and frustration out of getting rid of an old mattress. We also aim to keep bedding items out of the landfill and to help local communities by recycling and donating the items we pick up.
Mattress Disposal Plus does charge for our services in order to cover insurance costs, recycling fees, and to make sure our employees and contracted pickup crews receive a fair wage for all their hard work. While we do charge a fee, we offer prices that are 20-30% lower than most other mattress removal pickup companies.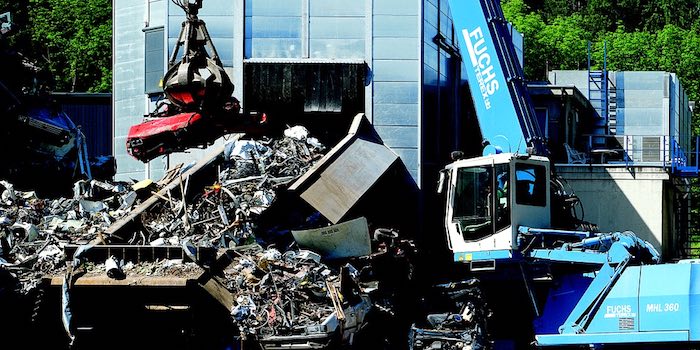 Mattress Recycling Pickup
Recycling an old mattress is the disposal option that will have the best environmental impact. Instead of tossing it in a landfill, recycling your old mattress ensures that toxic chemicals are kept out of the nearby air, water, soil, and food supply.
Recycling your unwanted mattress also helps your community. When you recycle a mattress instead of sending it to a landfill, this contributes to the local economy through job creation and by supporting the recycling industry.
Steel and other metals from the springs in a mattress can be melted down and reused in the production of countless other products. When you recycle your old mattress or box spring, the wood, fibers, and other materials are extracted and reused in the manufacture of things like new furniture.
Because of the recycling statutes in many cities and towns across the US, you'll have to take your mattress to a local recycling drop-off center or recycling event. Unfortunately, the recycling service and regular garbage service in most areas won't pick up an old mattress to be recycled.
Depending on how much you have to pay in recycling fees, whether or not you have a truck, and how much free time you have available, taking an old mattress or box spring to be recycled can be time-consuming and expensive.
If you don't have the time or equipment to take your mattress to be recycled, Mattress Disposal Plus will pick up your old mattress or box spring and take it to a recycling facility for you. All you have to do is book a pickup online or over the phone, and Mattress Disposal Plus does all the hard work.
Mattress Disposal Plus also gives you an upfront, honest price for your mattress removal and picks up your mattress when it works best with your schedule.
Unlike other mattress disposal services, Mattress Disposal Plus bases their prices on item count instead of volume. This means that if you only have one item you need to get rid of, Mattress Disposal Plus will still take it. Plus, they won't charge you for a whole truckload if they're not picking up a whole truckload.
Mattress Donation Pickup
The vast majority of charities in the US won't accept the donation of a used mattress, due to public health concerns. Even though you can't donate a used mattress to anyone, you can still do a lot of good by donating other bedding items like a bed frame or mattress base to a charity instead.
There are many charities that would be happy to receive a lightly used bed frame, such as homeless shelters and domestic violence centers. You could donate your unwanted bed to help a family that's lost everything in a natural disaster or economic hardship. You can rest easy knowing your old bed is helping someone less fortunate have a peaceful night's sleep.
Most national charities, like Habitat for Humanity or The Salvation Army, will take your donation of a gently used bed frame or base. They generally sell donated items like gently used furniture and TVs in their thrift stores to fund their work in the community.
Take a good look around the charity's website before deciding to donate your unwanted items to them. This will give you a good idea of what items they will accept and whether they will pick up your donated items. Many charities offer pickup of donated furniture, but most charge a fee, and many charities don't offer pickup at all.
First, make sure you don't haul your bed frame all the way down to the charity drop off center only to find they won't accept your donation. While you're getting rid of an unwanted bed frame, remember that charities waste a lot of time and money having to deal with items that should never have been donated in the first place.
If the charity doesn't pick up donations but your old bed frame or base is too heavy and difficult to get to the donation center by yourself, call a mattress removal pickup service like Mattress Disposal Plus to pick up your bedding items and haul them off to be donated instead.
Best Mattress Removal Pickup Services
You can save yourself the hassle of dealing with mattress disposal altogether when you have Mattress Disposal Plus pick up your old mattress or box spring and handle everything for you.
You should know that some junk haulers require pickup of a minimum number of items in order for you to book a pickup with them. That can get very expensive very fast.
Mattress Disposal Plus understands that sometimes you only have one thing you need to get rid of, so they will pick up only one item, and at a fair, low price.
While they do charge for their services in order to cover mattress disposal and recycling fees near you, Mattress Disposal Plus prices are 20-30% lower than those of most other mattress removal pickup services.
Having already diverted over 3 million pounds of junk waste from local landfills across the US, Mattress Disposal Plus will have your mattress recycled or donated instead of sending it straight to the landfill.
To learn more about our services, you can visit our help center or send us a message.