Is paying for mattress removal going to cost an arm & leg?
You've got an old, unused mattress that you need to get rid of because it's taking up space, and you've decided that saving your time and energy by calling a mattress removal service to get rid of your old mattress for you is the best option. So, you do a quick search to find "mattress removal near me."
You find a long list of mattress removal companies, but you're still left with one big question:How much does mattress removal cost?
Although you might not be able to find free mattress removal near you, it will be much easier to find the cheapest professional mattress removal service to dispose of your mattress by following our tips.
How Much Does Mattress Disposal Cost?
Each mattress removal service charges a different price for their mattress pickup services. On the Internet, I've seen prices for mattress removal ranging anywhere from $30 to $625. That's because mattress removal cost depends on a lot of different factors.
Using a mattress removal service could cost slightly more than if you were to dispose of your mattress yourself. Professional mattress haulers have to charge for their services because in order for the hauler to responsibly dispose of your mattress or box spring, they have to cover the disposal fees they are charged by the disposal facility.
A professional mattress removal company also has to cover their overhead costs such as licensing and background checks of their employees, as well as insurance policies and proper equipment to ensure you are protected from any accidental damage.
For these reasons, you really ought to use a professional hauling company instead of using some guy you found on Craigslist or TaskRabbit. However, there are other things you can consider to help you make sure you're getting the most budget-friendly mattress removal service possible.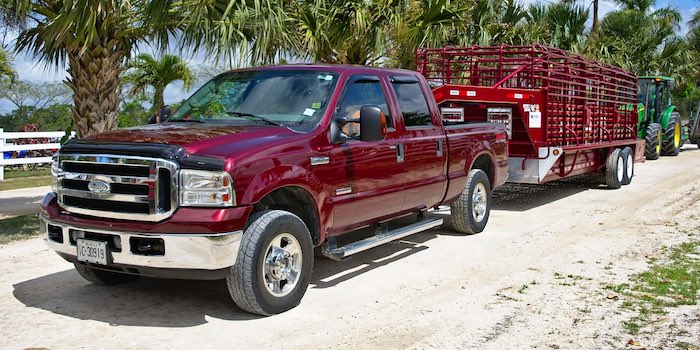 Mattress Disposal Methods
Most mattress removers would much rather just dump everything at the closest landfill once they load up their truck instead of taking the time to donate or recycle items that can be kept out of the dump.
It's important to find a mattress removal service that uses eco-friendly disposal methods such as donation and recycling, in addition to the responsible disposal of items that can't be saved.
Mattress pickup services have to pay any disposal fees when they dispose of the items they pick up in a landfill. When they mostly donate or recycle the mattresses instead, these haulers are able to pass those savings along to their customers by charging lower prices.
Mattress Removal Wait Time
Many mattress removal services advertise same-day service, but this can be misleading since it doesn't mean same-day pickup. It can be many days after calling a mattress hauler before your mattress is actually picked up.
This is because you have to book an appointment with the mattress disposal service for them to send someone out and give you a price estimate. Then you must schedule a separate appointment for your mattress to be picked up.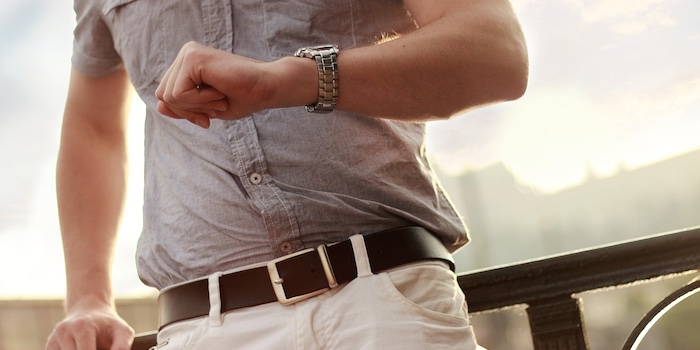 The problem with this method is that you have to be around for both appointments. Unless you have a lot of free time and paid time off, you'll have to take time off from work or cancel personal appointments so you can be there.
I don't know about you, but I certainly can't afford to take 2 days off just to have a junk removal salesman come and give me an estimate, only to charge me more when they pick up my old mattress. Time is money, so keep pickup wait time in mind as a cost consideration.
Mattress Hauler Insurance
Insurance is another cost consideration that can make a difference but one you may not have thought about. Any mattress removal service you use should be fully insured with at least a $100,000 policy.
Though we wish they wouldn't, accidents can and do happen sometimes. Especially when heavy, bulky items like a mattress or box spring are being hefted around. Make sure that the mattress removal service you choose can cover any property damage that might occur during the process of picking up your mattress.
Although it's likely not something you should worry about, there will always be a chance something will go wrong, no matter how careful the mattress removal service is. Making sure they're fully insured will save you a lot of money and stress in the event of an accident.
Mattress Removal Cost & Pricing
Most mattress removal services base their pricing structure on the volume of the items they are picking up. This tactic makes it easier for the person picking up your mattress to increase the price once your mattress and other items are loaded onto the truck.
When a mattress removal company bases their prices on volume but you only have 1 or 2 things you need to have picked up, like a mattress or bed frame, this makes it very costly and inefficient for the customer.
How Much Does Mattress Disposal Plus Cost?
Get high-quality, affordable mattress removal when you book your pickup with Mattress Disposal Plus.
Earth-Friendly Mattress Disposal
Mattress Disposal Plus disposes of the mattresses and other things they pick up in an eco-friendly way. Bed frames and bases that are still in good condition are donated to local charities.
Any other bedding items are taken to your local recycling facility. Disposing of a mattress by taking it to a landfill is only ever done if more eco-friendly disposal options aren't available.
Fast Mattress Pickup
When you book a pickup with Mattress Disposal Plus, your pickup is scheduled for a day and time that is best for you. Whether you book your pickup online or on the phone, your mattress can be hauled away as soon as the next morning.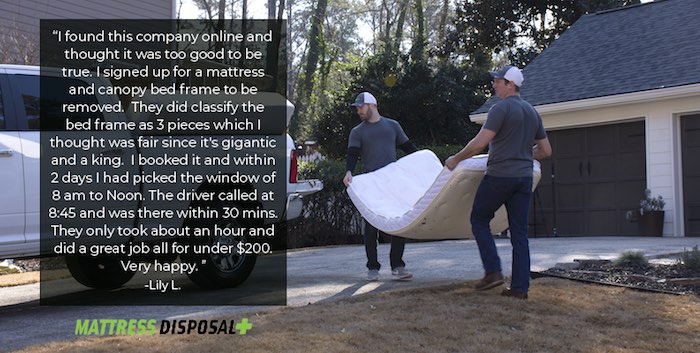 Because Mattress Disposal Plus offers a curbside pickup option (which includes a discount) and accepts electronic payment for service when you book, this eliminates the need for cash on hand when your mattress is picked up.
It also means that you don't have to wait around for your mattress to be picked up, saving you hours of your valuable time.
Mattress Disposal Plus Coverage
Trusted by over 47,000 customers across the US, Mattress Disposal Plus is a fully licensed and insured mattress removal company. Mattress Disposal Plus carries multi-million dollar insurance policies to protect you and your property during pickup.
The local, independent contractors who pick up mattresses and other items also carry a $1 million policy of their own, in addition to having passed a complete background check before getting started with Mattress Disposal Plus.
Mattress Disposal Plus Pricing
Mattress Disposal Plus bases their prices on item count rather than volume. Using this pricing structure, they're able to provide you with an upfront, honest price before you book your pickup.
That way, you know exactly what you're paying when you book your pickup, and you don't experience sticker shock when your pickup team arrives. Basing prices on item count instead of volume also means that Mattress Disposal Plus is able to charge prices that are 20-30% lower than the prices of most other mattress removal companies.
Most Affordable Mattress Removal
Now that you know how to find the most affordable and highest quality mattress removal service available, it's time to finally say goodbye to that ugly, old mattress that's been driving you crazy.
Want to learn more about our services? Give us a call today!