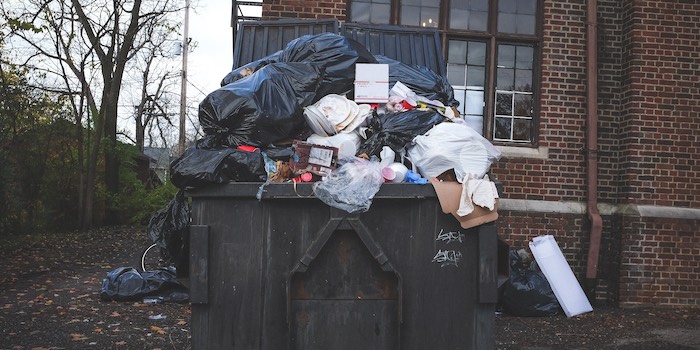 Nobody should put a mattress in the dumpster.
Just because you are able to fit something in a dumpster, that doesn't necessarily mean you can. And even if you're allowed to throw some things away in a dumpster, that doesn't always mean you should.
Because of safety concerns and local regulations, there are many types of junk and other waste that you cannot dispose of by throwing them in a dumpster.
If there's an item you're just not sure about whether or not you can dispose of it in a dumpster, check with your local public works department for a list of items that are generally prohibited.
In the meantime, we're going to take a look at the things you can and cannot dispose of in a dumpster. We'll also answer whether or not you can throw a mattress in a dumpster and how you can find an even easier option for mattress disposal.
What Can I Throw Away in a Dumpster?
Everyday stuff like home decor items, clothes, and linens are usually allowed to be put in a dumpster. Demolition and construction waste like wood, metal, bricks, concrete, and drywall are also usually okay. The items listed below are usually accepted for disposal in a dumpster.
cardboard
paper
storm debris
yard waste
aerosol cans
small appliances
heavy debris
wood scraps
wallpaper
tiles
dirt
However, do keep in mind that some municipalities have local waste ordinances that can prevent mattress and junk removal companies or dumpster rental services from disposing of certain items that are usually accepted.
To get the official word on disposal regulations in your neighborhood, get in touch with your local Public Works department.
What Cannot Be Put in a Dumpster?
Even though disposal regulations are a little different in every city or municipality, there are certain items that 9 and a half times out of 10 just can't be thrown in a dumpster. This is usually because the items in question are considered hazardous waste or could damage the dumpster.
Below is a list of things that usually can't be thrown in a dumpster but that can be disposed of through your local recycling center or sanitation department.
mattresses
refrigerators
tires
propane tanks
paint & paint cans
food waste
car batteries
household cleaners
hazardous materials
light bulbs
electronics
pesticides & herbicides
printer cartridges
air conditioners
If you don't have the time (or patience) to deal with hauling these items to your local landfill or transfer station, you can book a pickup with Mattress Disposal Plus and have them haul away your unwanted stuff and dispose of it for you in an eco-friendly way, usually through donation and recycling nearby.
As you probably noticed, mattresses are on the list of things you can't put in a dumpster. That's because they're hard to dispose of and can often contain bodily fluids, bed bugs, and other stuff that can be considered a biohazard.
A mattress has to be specially disposed of, so you'll have to haul your old bed to the local landfill or recycling center if you need to get rid of it.
Another (much simpler) option is to have your old mattress picked up and disposed of properly by a junk removal company. These junk haulers are trained in properly disposing of bulky junk items such as an old mattress or couch and have access to equipment and resources that the common public does not.
How to Dispose of a Mattress
Unfortunately, it can be very difficult to get rid of an old mattress, no matter where you live. Many regular garbage removal services will haul away certain bulky waste items when you request and schedule a special pickup, but they will not pick up a mattress that's been left on the curb.
You might want to do some good in your community by donating your unwanted mattress to a local charity such as Goodwill, the Salvation Army, or a similar organization.
If you've already tried to get rid of your used mattress set this way, then you know firsthand that charities will not and legally can not accept a secondhand mattress, even if it's in the original packaging.
In the end, to get rid of your mattress properly, you'll likely end up having to haul it to your nearest landfill or recycling center to have it disposed of responsibly.
Considering that you'll have to rent a truck, find someone to help you, pay expensive fees, and may not even physically be able to carry a mattress around to begin with, disposing of an old mattress yourself may not be an option for you. So what do you do with the darn thing?
You can completely avoid the hassle and frustration of mattress disposal by calling a professional mattress removal service like Mattress Disposal Plus to haul away and responsibly dispose of your old mattress set for you.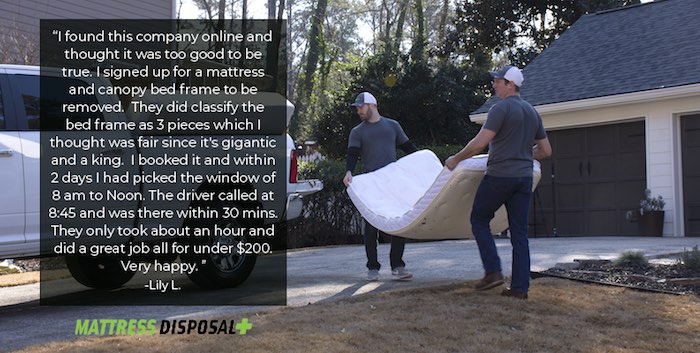 When you book an appointment with Mattress Disposal Plus for them to haul away and dispose of your old mattress, you save yourself loads of time and energy. You also save lots of money, since Mattress Disposal Plus charges an average of 25-30% less than other mattress disposal services in your area.
Mattress Disposal Plus is a nationwide mattress removal company offering convenient and affordable mattress hauling service as soon as the day after booking. Mattress Disposal Plus has already kept over 3 million pounds of unwanted mattresses and other junk items out of landfills across the U.S. by using eco-friendly disposal methods like recycling and donation.
Because they give you a low, upfront and honest final price before you even book your pickup, you don't have to worry about experiencing sticker shock when Mattress Disposal Plus arrives to haul away your old mattress or furniture (which is rarely the case with most other haulers and removal companies).
Whenever you need to get rid of an old mattress, box spring, bed frame, furniture, or just about any other junk you can think of, give Mattress Disposal Plus a call. They will do everything they can think of to make sure your mattress disposal experience is the best thing about your week!
Still have questions? Take a look at how our mattress disposal process works. You can also call our mattress disposal customer advocates at 877-708-8329 or chat with us online to take the guesswork and heavy lifting out of mattress disposal by booking a pickup today!