Layla features copper infusion and flippable firmness – what more could you want in a mattress?
Both critics and customers are totally in love with the Layla Mattress for its cutting-edge technology and value. People young and old are raving about the Layla Mattress, saying they're sleeping better than ever and finally waking up pain-free.
Because it's made with copper technology, the Layla Mattress sleeps cooler, provides more support, and promotes health and wellness.
The Layla Mattress is flippable, so you can choose between soft or firm comfort in minutes.
Layla offers a 120-night trial on their mattress so that you can try it for yourself, risk-free. If you decide the Layla Mattress isn't the right fit for you, they make the process easy with absolutely free returns.
Best of all, you can sleep soundly knowing that the Layla Mattress comes with a Lifetime Warranty, so you know both you and your mattress are protected.
We definitely suggest after reading this review that you take a look for yourself and see why the Layla Mattress has a reputation as one of the best mattresses on the Internet.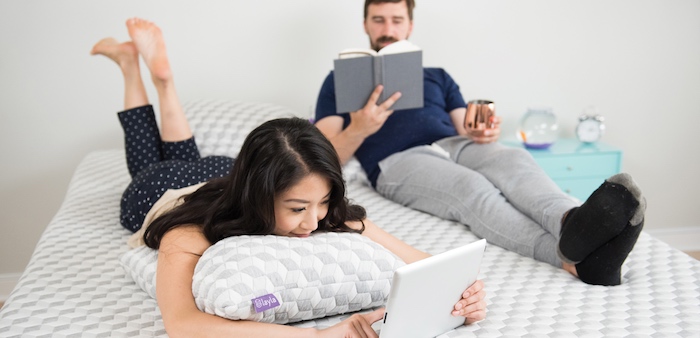 Discover the Cooling Comfort of the Layla Mattress
We've picked up thousands of unwanted mattresses over the years at Mattress Disposal Plus, so we've heard all about nearly every mattress out there from our customers. One mattress that we've almost never heard any complaints about is the Layla.
What sets the Layla Mattress apart from its competitors is the copper technology used throughout the mattress. Along with its flippable firmness, the Layla Mattress is engineered with copper in the foam and cover to be a mattress that sleeps cleaner, cooler, and more supportive than any other.
The Layla Mattress is an all-foam design offering a Soft firmness level on one side and a Firm side when you flip the mattress over, so you can easily switch things up to fit your comfort needs.
After you've finished reading our review of the Layla Mattress, I think it will be easy to see why Layla is on our list of the Best Mattress Brands of 2018. Keep reading to learn why hundreds of people say Layla has helped them get the best sleep of their lives.
A Mattress Designed for Sleep Health & Comfort
Layla Mattress Layers
The Layla Mattress is made with 4 layers of different CertiPUR-US® Certified Foams. It is 10 inches thick, with two different firmness levels – Soft on one side and Firm on the other. The Soft side is a 4 out of 10, and the Firm side is a 7 out of 10 on the standard mattress firmness scale.
With the Soft side facing up, the top layer of the Layla Mattress is 3 inches of a copper infused memory foam. This layer offers rapid heat transfer to keep you cool and antimicrobial, deep compression support.
The next layer down is 2 inches of Convoluted Support Foam. This egg crate foam-type layer features 1.8lb density and deep convolutions to provide maximum airflow for a cooler night's sleep.
Under that is a 4.5-inch layer of 36-ILD Base Support Foam. This core support layer provides pressure relief in deep compression areas, keeping you from waking up with back and neck pain.
Finally, the last layer of the Layla Mattress is made of 1-inch thick Copper Infused Memory Foam. Because it doubles as the top layer of the firm side of the mattress, it also features rapid heat transfer and antimicrobial deep compression support.
The Layla Mattress is great for sleeping partners since its foam layers isolate motion, greatly reducing motion transfer and preventing people sleeping in the same bed from disturbing each other when they move.
Layla's mattress is also CertiPUR-US® certified, meaning that the layers of foam of the Layla Mattress meet very strict safety testing standards.
They are shown to be made without phthalates and other ozone-depleting substances such as formaldehyde, mercury, lead, or other heavy metals, as well as having low volatile organic compounds (VOC) emissions.

Layla Mattress Cover
The Layla Mattress cover is crafted with ThermoGEL® Technology. ThermoGEL® is a food grade cooling agent integrated into the cover that activates when your body temperature starts to rise, to cool you down quickly.
The top and sides of the Layla Mattress zipper cover are woven with the ThermoGEL® cooling agent to help reduce heat buildup and are made of 66% polyester, 30% viscose, 4% poly/lycra. The bottom of the cover is 100% polyester.
The Layla Mattress cover is dry clean only, but you can easily purchase extra or replacement covers by contacting Layla directly.
The Layla Trial & Warranty
So that you can be sure you love their mattress, Layla offers a 120-night trial period. Layla does require that you sleep on their mattress for at least 2 weeks before returning it since most people need a bit of an adjustment period to get used to a new mattress.
I bet you won't need all 120 nights to decide you love the Layla Mattress, but if for some reason you're not completely satisfied, Layla will allow you to return the mattress free of charge and will provide you with a full refund.
The Layla Mattress comes with a Lifetime Warranty, just in case your new mattress has any imperfections or defects. This considerably increases the value of the Layla Mattress, especially since most other mattress retailers only offer their customers a 2-year limited warranty at most.
Layla Mattress Review Summary
Comfort Highlights
Layla's ThermoGEL® cover and copper-infused foams help regulate body temperature to keep you cool and clean while you sleep
Copper Infused Memory Foam provides rapid heat transfer and antimicrobial deep compression support, while Base Support Foam offers unparalleled pressure relief
The Layla Mattress uses CertiPUR-US® certified foams, making it eco-friendly and with little to no unpleasant smell.
The Layla Mattress has a firmness level of 4 on one side and a firmness level of 7 on the other side, for flippable comfort perfect for any sleeping style
Value Highlights
120 night risk-free trial with free returns makes it easy to try the Layla Mattress and make sure it's the right mattress for you
The Layla Mattress is made from high-quality materials and CertiPUR-US® certified foam, along with cooling ThermoGEL® technology
Every Layla Mattress comes with a Lifetime Warranty
Where to Buy a Layla Mattress
We strongly suggest buying your Layla Mattress directly from their website so you know you're getting the real deal. You can also follow this link to learn more about the Layla Mattress and other bedding products Layla offers, such as their popular, copper-infused Layla Pillow.