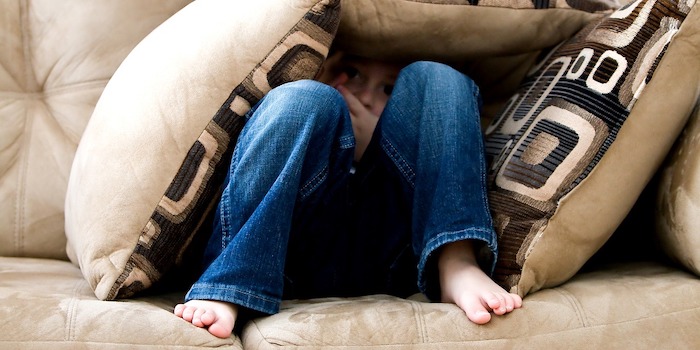 If you're wondering how to get pee stains or pee smell out of a mattress, these methods should do the trick.
Here we are. This is probably one of the least glamorous moments of your life, and you're likely not at your best right now. That's okay.
Especially if you have kids or pets, accidents are inevitable, but there's no need to freak out about what to do when the tinkle train comes to town.
We all know that the best way to prevent this problem is using a mattress protector, but not everyone has the time or money to buy one and sometimes they just plain fail. Like I said, accidents happen. So take a long, slow, deep breath while you stop beating yourself up, and remember that we can fix this.
With the guide below, you should be able to get rid of any ghosts of accidents past and come out on the other side a pro at getting pee stains out of a mattress. Are you ready to be the envy of all your friends, family, and neighbors? Let's do this.
Removing Urine From a Mattress
A long night doesn't have to ruin your mattress forever. With just a few household items you can have a fresh, clean bed again.
These instructions can help you clean up a mattress and serve as a handy guide for how to get pee out of a mattress or other upholstered furniture as well.
Make sure you spot test a small, hidden area before using these methods to clean your entire mattress. Some mattresses, like memory foam or pillow top mattresses, may not do well with some treatments.
Just how well these treatments work will depend a lot on what your mattress is made out of and how you're directed to clean it. So, use at your own risk, but many people have used these cleaning methods with great results.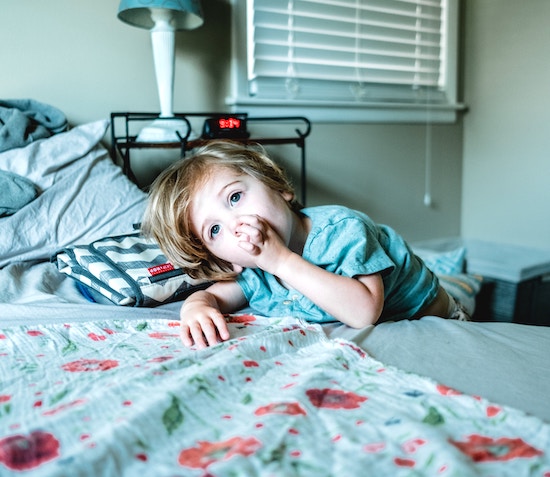 How to Get Fresh Pee out of a Mattress
If you just discovered a late-night present on a pillow top mattress from someone in your home and you need to know what to do, follow the steps listed below. If the accident has had time to set and dry, scroll down to the next section for a more heavy-duty method.
If the spot is still wet, you'll probably be able to make it look like this whole situation never happened at all. Ideally, this surprise has just happened and you have several hours to let your new favorite, baking soda, sit and work its magic. You'll need:
white vinegar
baking soda
a few towels
a spray bottle
a hand vacuum or vacuum cleaner with upholstery attachments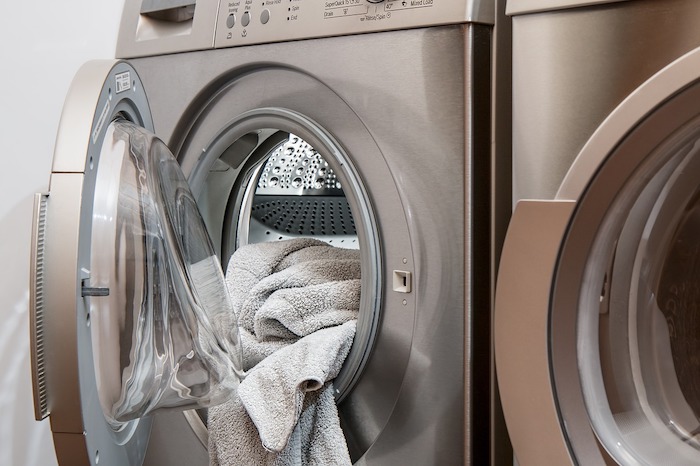 Once you've removed all of your sheets, blankets, and other bedding, throw it into the wash ASAP and wash on the hottest water setting you can and follow the steps below:
Mix the white vinegar with water in a spray bottle in a half-and-half ratio.
Use a towel to blot out the liquid in the mattress. Do not scrub because scrubbing will damage the mattress materials and soak the urine even further into your mattress, making it harder to get the odor out.
Once you've blotted most of the wet urine away, spray your white vinegar solution generously over the area. Keep blotting out excess liquid.
Cover the area generously with baking soda and allow it to sit for at least 8-10 hours. The longer you let it sit, the more effective it will be.
Vacuum up the baking soda and take a good look at the area. If there's any leftover staining or odor, you can repeat this process as many times as you need to.
How to Get Urine out of a Mattress When Dry
If you've inherited a stained mattress or discovered an accident way too late, you're going to need a stronger cleaning solution to do some heavier lifting. You can make this cleaning solution from household items you already have or can grab on a quick trip to the store.
spray bottle
1c hydrogen peroxide
3 Tbsp baking soda
3 drops of liquid dish detergent
You can also add a few drops of your favorite essential oil to leave behind a nice scent. Lavender is a great choice because it's often used for relaxing in aromatherapy. My personal favorite is a blend of lavender, patchouli, and sage.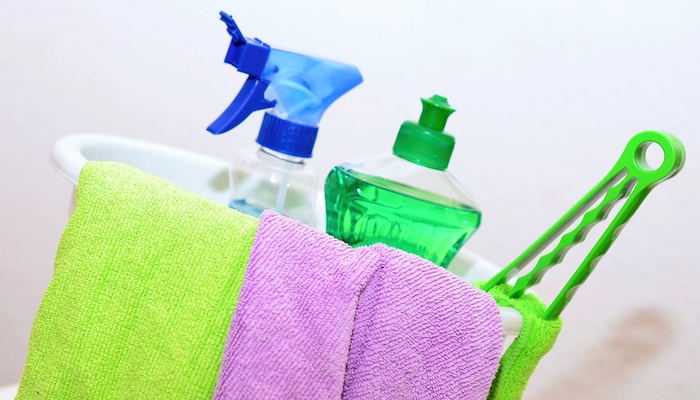 Add all ingredients to your spray bottle and mix them together by gently stirring or swirling them around. Do not shake the bottle; that's how a science project volcano works.
Spray a generous amount of the solution onto any visible stains. Make sure you cover everything evenly.
Let everything sit until it's dry. You should be able to see a layer of baking soda residue on the mattress.
Vacuum up all of the baking soda and you should be good to go!
If you can still see staining or smell any odor, you can repeat this process until everything completely disappears. The longer you let the solution sit and work, the fewer times you'll have to repeat these steps.
How to Get Pee out of a Memory Foam Mattress
The process for getting pee out of a foam mattress is a little different. You should never get a foam mattress wet, as this can ruin the materials it is made from. Try to keep your foam mattress as dry as possible when cleaning it.
Foam tends to absorb moisture much more quickly than a traditional mattress, so you may find that you need to repeat the cleaning process a few times to really get results.
When cleaning a foam mattress, you'll want to use a special enzyme cleaning solution. Enzyme cleaners that are specifically made to clean urine stains and odor are available in both liquid and powder form. They are pretty affordable and can be found in most grocery or big box stores such as Target.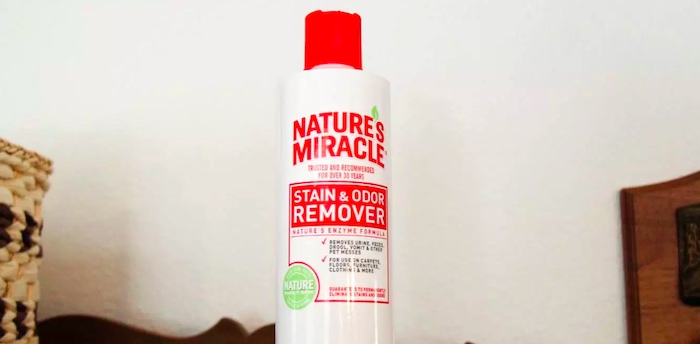 My personal favorite enzyme cleaner brand is Nature's Miracle. It's easy to find, doesn't cost a fortune, works like magic, and even smells pretty good. Of course, you can use just about any enzyme cleaner on the shelves to get the job done.
enzyme cleaner
spray bottle
baking soda
eco-friendly paper towels or absorbent cleaning cloths
vacuum cleaner
A hand vacuum or a good vacuum cleaner with a mattress hose attachment are preferable, but work with what you have. Just make sure whatever you use is clean.
Blot any wet spots with a cleaning cloth or paper towels. You can also sprinkle some baking soda on areas that are soaked. Once the baking soda looks pretty dry, give it a quick vacuum.
Put the biological enzyme cleaner in a spray bottle. You can make a solution with a dry powder form and water or use a straight liquid form that's available in most pet stores.
Spray the enzyme solution directly onto stained areas and let it set in for about 20 minutes. Be sure to also read the instructions on the packaging.
Open your windows and use a fan to ventilate the room.
After the cleaning solution has sat for long enough, blot up any moisture with paper towels or cleaning cloth.
Sprinkle baking soda onto the mattress so that it completely covers any stained or wet areas, and let it sit for 18 hours. The longer, the better.
Once the baking soda is finished working its magic, vacuum it up completely and air out the mattress before making the bed again.
How to Get Dog & Cat Pee out of a Mattress
We all love our fur babies, and while many of us allow them onto our beds, this can result in accidents that have to be treated a little differently than human accidents. If you've discovered a mess from one your four-legged family members, all is not lost.
For this cleaning method, you'll be using a kit similar to the ones listed above.
baking soda
hydrogen peroxide
liquid detergent
spray bottle
enzyme cleaner
eco-friendly paper towels or absorbent cleaning cloths
vacuum cleaner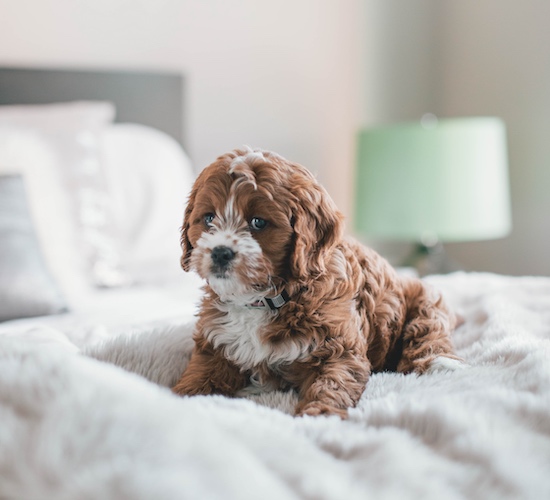 If you're looking for how to get cat pee out of a mattress, or how to get dog pee out of a mattress, the process is pretty similar, though you want to soak the urine out of your mattress first.
Use paper towels or absorbent cloths to blot out as much of the wet pee as possible.
Mix a couple of drops of liquid dish detergent in a cup of hydrogen peroxide and add to your handy-dandy spray bottle.
Spray a generous amount of solution evenly on the soiled areas. Let sit for about 10 minutes, then blot up again.
Sprinkle baking soda over the area to pull out the urine. The baking soda should darken in color over time.
Vacuum the baking soda off of your mattress and sprinkle more on to continue drawing out the urine. Keep repeating this step until the baking soda stays white.
Once the baking soda has done all it can or if the stain is already dry, use an enzyme cleaner made specifically for pet stains and odor for a maximum strength treatment.
What to Do About Pee in a Mattress
Remember that any of these methods can be repeated numerous times to ensure that the urine issue is removed as best as possible. If one method is not working for you then try another.
Once you have removed the pee stain you will want to stay ahead of any future urine problems. Go ahead and invest in a good waterproof mattress protector to keep from having to this all over again the next time there's an accident.
A sealed mattress protector can easily be placed anywhere such as on a parent or child's bed, the sofa, or in the car when traveling. While it may not seem like a "need to have" expense, it will save you a LOT of time, trouble, and money in the long run.
If you just can't seem to get the smell of pee out of the mattress no matter what you do, or if you just don't have the time and patience to spend cleaning it, your next recourse will likely be to replace your pee-pee mattress with a new one.
For mattress shopping advice and reviews of some of the best mattress brands on the market today, check out our Best Mattress of 2018 article.
Whether you need to dispose of a mattress now or later on down the road, be sure to use a mattress disposal method that's safe for the environment, affordable, and stress-free.